Better Nate Than Ever


by Tim Federle.

Novel. 288 pages. Grades 4-8.
Find this book: Local Bookstore, Amazon
, B&N

Review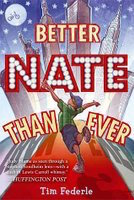 In this very funny book, 13-year-old Nate loves Broadway musicals and is certain he could be a star in one, even though he's never even been to a Broadway musical. With the support of his best friend he hatches a scheme to go to New York City to audition for one. There he finds a world in stark contrast to his small hometown.
This quirky boy, who is always singing and never seems to fit in, is often teased and bullied for being gay, although he isn't sure if he is or not. What he does know is that he doesn't feel at home in his community, but when he goes to New York he finds that sense of belonging in the musical theater community.
The issue of Nate's emerging homosexuality is a subtle undercurrent is never really mentioned directly except for that statement where he says he doesn't know if he is or not. In New York, for instance, he notices men can dance with other men "who probably liked Phantom of the Opera." The tone of the book is playful and the characters he encounters make his adventure a lighthearted read. Nate is resilient, goofy and lovable.
When Federle was growing up he was always singing and he did move to NYC as a teenager and dance. His inspiration for the book, however, came from teaching dance to the young dancers in the Broadway musical Billy Elliot where he came to know so many young Broadway dancers and wanted to write a book that would help kids know that the very thing that makes you different and the object of teasing as a child can be the thing that you are paid to do later in life. Indeed, this book conveys a wonderful message about individuality and following your passions.
This book won a Stonewall Honor Award, it also has a really excellent audio version.
---
Advertisement:
---
---
---
Advertisement:
---
---
Advertisement:
---
---
Don't miss a thing! Sign up for our Free Newsletter.
Sign Up!

---
Free Teacher's Guides for Novels, Picture Books and Nonfiction. For Preschool through Ninth Grade.
---
Curriculum Areas
---
---
In Times Past
an eBook
by Carol Hurst and Rebecca Otis
Integrating US History with Literature in Grades 3-8.
Enliven your US History curriculum!
Teach US History using great kids books.
---
By Carol Otis Hurst!!

ws-na.amazon-adsystem.com Rocks in His Head.

Pick up your copy of Carol's Award Winning Picture Book!
---
You can help fund this site at no cost to you!
If you shop at Amazon.com bookstore use
This Page
each time you enter Amazon.com.
More information
.
---