Carlos is Gonna Get It


by Kevin Emerson.

Novel. 291 pages. Grades 5-9.
Find this book: Local Bookstore, Amazon
, B&N

Review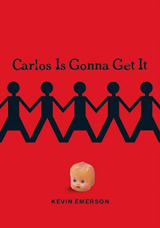 Trina is in seventh grade and she and a small circle of friends have a problem. Carlos is driving them crazy. He talks in a weird voice and scratches himself incessantly. When he gets on their nerves their responses end up getting them in trouble. They resent that he never gets in trouble because he is a special needs student.
Trina and her friends hatch a plan to teach Carlos a lesson once and for all. In the meantime Trina has to work with Carlos on a science project and finds she cares about him once she understands him better.
As the execution of the plan nears Trina is torn between not wanting to stand up to her friends, concern about Carlos and her own anger at him.
The dynamics between the students ring true and the issues of bullying, special needs, compassion and guilt are honestly laid out. This is a gripping story about everyday middle school dramas and one individual's reactions.




Related Areas Within Carol Hurst's Children's Literature Web Site
Search Our Site
---
Subscribe to our Free Email Newsletter.
Sign Up!

---
Advertisements:
---
In Times Past
an eBook
by Carol Hurst and Rebecca Otis
Integrating US History with Literature in Grades 3-8.
Enliven your US History curriculum!
Teach US History using great kids books.
---
---
By Carol Otis Hurst!!

Rocks in His Head.

Pick up your copy of Carol's Award Winning Picture Book!
---
You can help fund this site at no cost to you!
If you shop at Amazon.com bookstore use
This Page
each time you enter Amazon.com.
More information
.