Granny the Pag


by Nina Bawden.

Novel. 192 pages. Grades 4-8.
Find this book: Local Bookstore, Amazon
, B&N

Review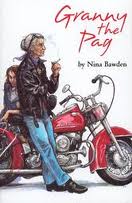 This is a terrific story. Cat (real name Catriona) lives with her unconventional grandmother whom she has nicknamed Pag. Her mother and father are television stars and are so silly that their personalities are almost caricatures. The Pag is a famous psychiatrist and she and Cat have a warm, funny relationship. At school, run by a fatuous headmaster, Cat is being harassed by three boys but her good friends Rose and Tom, with threat of retribution by The Pag, have held them at bay.
Now, however, her mother and father want Cat to live with them in Surrey and it looks like they may succeed. Cat goes to a solicitor and there's a last chapter climax in which the court decides her fate. And then there's The Pag's near-drowning just to add a last page trauma.
The effect of the book, however, is warm and accepting. We are left wanting The Pag to live forever, for Cat's silly parents to go back to their artificial world and for life to just go on the way it is.



Related Books
A Long Way from Chicago by Richard Peck. (1998, Dial. ISBN 9780803722903. Order Info.) Novel. 192 pages. Gr 4-12.
Every August from 1929 - 1942, our narrator, Joey, and his sister Mary Alice come from Chicago to their grandmother's home in rural Illinois. We join them there every year from 1929 - 1935 and then again, for a last look, in 1942. In the process, Peck has given us one of the most delightfully wacky, crafty characters in young adult literature in this grandmother. Read More.

The Keeping Quilt by Patricia Polacco. (1988, Simon & Schuster. ISBN 0671649639. Order Info.) Picture Book. 32 pages. Gr K-3.
A Russian immigrant mother and family arrive in the United States. She plans to make a quilt from a basket of old clothes, telling her daughter, "It will be like having the family in backhome Russia dance around us at night." The quilt is passed along from mother to daughter for four generations. It becomes a Sabbath tablecloth and a wedding canopy. When it becomes a blanket for new generations of children, it really tells a family's story of love, faith and endurance. Read More.

Alida's Song: A Companion to The Cook Camp by Gary Paulsen. (2001, Perfection Learning. ISBN 9780756908393. Order Info.) Novel. 88 pages. Gr 5-8.
Alida is the grandmother in The Cookcamp (Orchard, 1991 ISBN 0531085279). In Alida's Song, that grandmother rescues him again. She's not working in the cookcamp now but is housekeeper and cook for two bachelor farmers. She writes asking her grandson to join her. He will, she says, be able to help with the farming. The book is tender and quite wonderful. The knowledge that the work is largely autobiographical lets us feel grateful that the man whose work we so admire today had such nourishment, at least for a summer. Read More.


Related Areas Within Carol Hurst's Children's Literature Web Site
Search Our Site
---
Subscribe to our Free Email Newsletter.
Sign Up!

---
Advertisements:
---
In Times Past
an eBook
by Carol Hurst and Rebecca Otis
Integrating US History with Literature in Grades 3-8.
Enliven your US History curriculum!
Teach US History using great kids books.
---
---
By Carol Otis Hurst!!

Rocks in His Head.

Pick up your copy of Carol's Award Winning Picture Book!
---
You can help fund this site at no cost to you!
If you shop at Amazon.com bookstore use
This Page
each time you enter Amazon.com.
More information
.