It Is the Wind


by Ferida Wolff. Illustrated by James Ransome.

Picture Book. 32 pages. Grades PreK-2.
Find this book: Local Bookstore, Amazon
, B&N

Review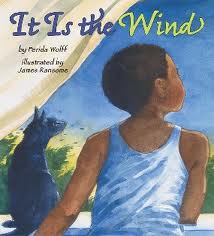 This is a simple, beautiful book. Lyrical poetic text is printed with the rhyming sound words (mostly onomatopoeia) set apart within the text with color. This is a good read aloud. The watercolor illustrations of an African American boy looking out his bedroom window have just the right amount of color and detail for that dreamy listening to the sounds of the night in the country feeling. They match the gentle rhythm of the text perfectly.
From the first page:
"What is the noise I hear,
in the night
that wakens me,
that shakens me,
the noise, I hear, in the dark
in the night?"



Related Books
Hello, Day! by Anita Lobel. (Greenwillow, 2008 ISBN 9780060787660. Order Info.) Picture Book. Grades PreK-K.
This is a good example of how a common concept, farm animals and the noises they make, can be rendered by a master using a simple style and yet result in something that transcends its simplicity. Rich paintings which both inspire and soothe accompany predictable text: 'The Cat said, 'Meow.'" A perfect match for the preschool set or a young beginning reader.


Related Areas Within Carol Hurst's Children's Literature Web Site

Related Areas Elsewhere on the Internet
Following these links will take you off our web site. You will have to use your back button to return or, bookmark our site now so you can return anytime.
Search Our Site
---
Subscribe to our Free Email Newsletter.
Sign Up!

---
Advertisements:
---
In Times Past
an eBook
by Carol Hurst and Rebecca Otis
Integrating US History with Literature in Grades 3-8.
Enliven your US History curriculum!
Teach US History using great kids books.
---
---
By Carol Otis Hurst!!

Rocks in His Head.

Pick up your copy of Carol's Award Winning Picture Book!
---
You can help fund this site at no cost to you!
If you shop at Amazon.com bookstore use
This Page
each time you enter Amazon.com.
More information
.