Mary Had a Little Lamp


by Jack Lechner. Illustrated by Bob Staake.

Picture Book. 32 pages. Grades PreK-12.
Find this book: Local Bookstore, Amazon
, B&N

Review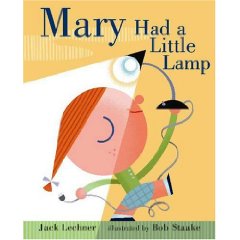 This book got me right in my funny bone. What a delight it was to find in the pile of new releases.
Mary has a little lamp, a gooseneck desk lamp, in fact. And yes, she takes it everywhere she goes. She loves the cool feel of it against her face and she loves the light it gives when she plugs in the cord that she drags it around by. Her parents: "We just don't get it! Why a lamp? her worried parents said. 'We told her she could have a dog She wanted this instead!'"
The illustrations are bold and outrageous. A perfect match to this wry poem. The faces of people and animals are particularly expressive.
To the surprise of all Mary heads off to summer camp without her lamp and has a fabulous time. We think perhaps she's finally "normal" until we read the surprise ending. I highly recommend this book for all ages.



Search Our Site
---
Subscribe to our Free Email Newsletter.
Sign Up!

---
Advertisements:
---
In Times Past
an eBook
by Carol Hurst and Rebecca Otis
Integrating US History with Literature in Grades 3-8.
Enliven your US History curriculum!
Teach US History using great kids books.
---
---
By Carol Otis Hurst!!

Rocks in His Head.

Pick up your copy of Carol's Award Winning Picture Book!
---
You can help fund this site at no cost to you!
If you shop at Amazon.com bookstore use
This Page
each time you enter Amazon.com.
More information
.