Masterpiece


by Elise Broach. Illustrated by Kelly Murphy. (Holt, 2008. ISBN 9780805082708. Order Info.) Novel. 304 pages. Grades 3-6.



Review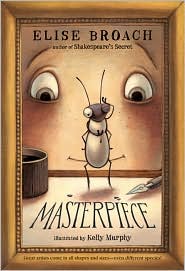 Marvin and his family are shiny black beetles who live in the cupboard under the kitchen sink in eleven year old James' house in New York City. The beetle family is loving, attentive and sometimes overprotective. James is lonely living with his mom and step-dad who are more attentive to his new baby brother. No one seems to have any time for him. His eleventh birthday is such a pitiful affair that Marvin--ever exuberant and kind-hearted--breaks his family's rules about staying undetected and makes a drawing for James by dipping his front legs into the ink James got from his artistic father.
When James' mother sees the impossibly intricate drawing and assumes James made it the boy and beetle begin an adventure together. The drawing has an uncanny resemblance to the drawings of Albrecht Dürer. James' father takes him, with Marvin secretly tucked in his pocket, to the Metropolitan Museum of Art to see the Dürer exhibit. There they become involved in a scheme to foil some art thieves and protect one of Dürer's drawings. Along the way the boy and the silent beetle find some creative ways to communicate while forming a true friendship.
This book shows the influence of classics like The Borrowers by Mary Norton with the vivid details of Marvin's miniature life such as playing horse shoes with staples and toothpicks and Charlotte's Web by E. B. White with the tenderness of its cross-species friendship as well as The Mixed-up Files of Mrs. Basil E. Frankweiler by E. L. Konigsburg with its Metropolitan Museum of Art setting.
This is a very engaging mystery fantasy with memorable and lovable characters.

Related Areas Within Carol Hurst's Children's Literature Web Site
Featured Subject: Mysteries with fiction and nonfiction books, activities and related links.