Miss Rumphius


by Barbara Cooney.

Picture Book. 32 pages. Grades 2-4.
Find this book: Local Bookstore, Amazon
, B&N

Review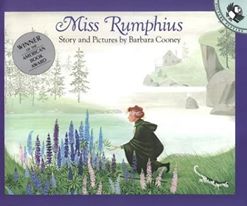 This beautiful picture book tells of the life of the author's great aunt Alice, now called The Lupine Lady. When she was little, Alice told her grandfather that she wanted to do as he did: go to far away places and live in a house by the sea. He told her that she must also do something to make the world more beautiful.
She accomplishes all she set out to do: traveling to tropical islands, climbing mountains before she hurts her back falling from a camel and decides to live by the sea. Her need to make the world more beautiful is a source of consternation to her.
Her solution of spreading lupine seeds wherever she walks is at first inadvertent - birds and the wind disperse lupine seeds from some she had planted in her garden before her bad back forced her into a semi-invalided life. When she sees new plants growing on nearby hillsides and cliffs, she spreads the seed herself after she feels better.
The illustrations are exquisite. They have the appearance of watercolors but were accomplished with acrylics and colored pencil. Several pages show a vast expanse of sea, marsh and land. Colors fade into the mist and just the right look of misty mornings by the sea is created.



Related Books
The Tiny Seed by Eric Carle. (1987, Picture Book Studio. ISBN 978-0887081552.) Picture Book. 36 pages. Gr PreK-2.
Find this book: Local Bookstore, Amazon, B&N

We follow a seed from birth to flower to seed again. It's fall and the seeds are being blown along by the wind. Obstacles abound, but one seed is able to grow to maturity where it faces more perils. This classic, first published in 1970, is a great introduction to the life-cycle of flowering plants but also a beautiful philosophical look at life. Read More in our Featured Book article including classroom activities, related books and links.

Growing Patterns: Fibonacci Numbers in Nature by Sarah C. Campbell. Illustrated by Sarah C. Campbell and Richard P. Campbell. (2010, Boyds Mill. ISBN 9781590787526.) Nonfiction Picture Book. 32 pages. Gr 3-5.
Find this book: Local Bookstore, Amazon, B&N

Eye-catching close-up photographs show the Fibonacci sequence (1, 1, 2, 3, 5, 8, 13, 21, 34, 55 . . . ) in flower petals, pine cones, pineapples and seashells. The opening description is a bit confusing but is soon made clear. A great general exposure to patterns for the youngest students and a clear introduction to this crucial pattern for slightly older students.

A Seed Is Sleepy by Dianna Hutts Aston. Illustrated by Sylvia Long. (2007, Chronicle. ISBN 9780811855204.) Picture Book. 28 pages. Gr 2-8.
Find this book: Local Bookstore, Amazon, B&N

This is a gorgeous picture book from the same author/illustrator team that brought us An Egg Is Quiet. We start with a beautiful opening page spread showing sunflower seeds nestled within the center of a ripe sunflower head. Beautiful illustrations show seeds next being secretive (lying dormant for a season or for years), fruitful (encased in blueberries and papayas) and so on. Read More.


Related Areas Within Carol Hurst's Children's Literature Web Site
Barbara Cooney featured author article

The Tiny Seed by Eric Carle. Featured Book Teachers Guide with a review, discussion ideas, activities, related books and links.
Search Our Site
---
Subscribe to our Free Email Newsletter.
Sign Up!

---
Advertisements:
---
In Times Past
an eBook
by Carol Hurst and Rebecca Otis
Integrating US History with Literature in Grades 3-8.
Enliven your US History curriculum!
Teach US History using great kids books.
---
---
By Carol Otis Hurst!!

Rocks in His Head.

Pick up your copy of Carol's Award Winning Picture Book!
---
You can help fund this site at no cost to you!
If you shop at Amazon.com bookstore use
This Page
each time you enter Amazon.com.
More information
.