Okay for Now


by Gary D. Schmidt.

Novel. 368 pages. Grades 6-9.
Find this book: Amazon

Review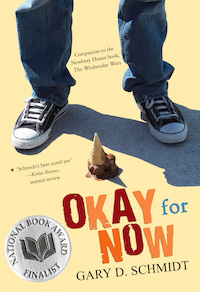 Set in 1968 small town New York, this National Book Award finalist is a stand-alone companion book to The Wednesday Wars, this time focusing on the prankster Doug. He is starting eighth grade, which is bad enough, even worse his father violently abuses him and his brothers—even when one of them returns from Vietnam having lost both legs. The cruelty, driven by his father's drinking, gives us insights into Doug's personality.
Doug is having difficulty adjusting to small town life and deeply misses their home that they have just left in New York City. He escapes to the local library where he discovers the bird paintings of Audubon, some of which Schmidt has included at the start of each chapter. The librarian teaches Doug to paint and to see the world with the eye of an artist.
Compared to Holling in The Wednesday Wars Doug has more serious problems, but there is still the contrast here of light humor interwoven with the day-to-day struggle. In both books we see how the characters are impacted by world events like the Vietnam War and the moon landing as well as by the quickly changing culture of the late 1960s.
A powerful statement on the transformative effects of creativity.
(Continued Below)
---
Advertisement:
---
(Continued Below)
---
Advertisement:
---
(Continued Below)
---
Advertisement:
---

Related Areas Within Carol Hurst's Children's Literature Web Site