On the Far Side of the Mountain

by Jean Craighead George. (Dutton, 1990 ISBN 0525463488.
Order Info
.) Novel. Grades 4+.
This review by Carol Otis Hurst first appeared in
Teaching K-8 Magazine.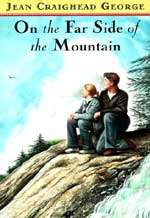 Review
This is the sequel to My Side of the Mountain (Dutton, 1988 ISBN 0-525-44395-9) and is the continuation of the story of Sam Gridley, a young man determined to live with nature, not against it, in comparative isolation on a mountain in the Catskills of New York. Now his younger sister Alice has joined him there, more or less and leaves a trail for him to follow through the mountains where he may rescue his beloved falcon, Frightful.

Things to Notice and Talk About

Activities
Much is made in the book of topographic survey maps. Get one for your area and locate landforms and landmarks. Contrast the information with that of a highway or street map of the same locale. Get one for a totally unknown area to you. Decide where you would build or camp, what water would be usuable, what food sources. Could you live on the side of one of the mountains?

There is also much information in this book as well as the earlier one about natural foods. Find and taste some of them. What edible plants grow wild in your area? Make a guide to them and their uses.

The information on falconry is extensive in On the Far Side of the Mountain. Write down what you know about the subject from reading this book and then extend your information using other sources.

Of course you'll want to make working models of the projects undertaken by Sam and Alice: the mill, the dam, the barometer, the compasses, the nut pounder, and the sawmill. It might be fun to play the tracking game as well. Go to the closest thing to wilderness you can find, divide into teams and leave clues for each other. How obvious do they have to be?

Think about Jean Craighead George, the author of On the Far Side of the Mountain. Find out what you can about her life. How did this grandmother come to know so much about the out of doors? Look at other novels she wrote. How many of them center around young people surviving on their own? Has she written a sequel to any of the others? Why do you think she returned to Sam Gridley for another story?

Related Books
Emmaline and the Bunny by Katherine Hannigan. (2009, Greenwillow. ISBN 9780061626548. Order Info.) Chapter Book. 112 pages. Gr 1-3.
This chapter book uses a sweet approach to tell a cautionary tale of a town that doesn't allow any messiness. The consequences for one little girl effect her own quality of life as well as the wilderness environment. The writing is full of creative word usage and begs to be read aloud. A charming gem of a book. Read More.

Compare Sam to Matt Hallowell from Elizabeth George Speare's Sign of the Beaver (Houghton, 1983 ISBN 0-395-33890-5). Matt immediately eats the available food and has minimal survival skills. Would Matt make it with Sam? Would Sam have coped as well in the time of Sign of the Beaver?

Sam's quest for survival in the wild was entered upon willingly. Look through the literature for books about survivors such as Slake in Slake's Limbo by Felice Holman (Macmillan, 1974 ISBN 0-684-13926-X. ) Slake's survival underground was, at least at first, born of necessity. His skills for survival are different than either Sam or Matt Hallowel. Whose physical condition is better at the beginning and at the end of their stories? With which of those environments could you possibly survive?

Make a chart listing main characters from survival novels with different settings. List their tools, their skills before and after their ordeals.

Related Areas Within Carol Hurst's Children's Literature Web Site
Search Our Site
---
Subscribe to our Free Email Newsletter.
Sign Up!

---
Advertisements:
---
In Times Past
an eBook
by Carol Hurst and Rebecca Otis
Integrating US History with Literature in Grades 3-8.
Enliven your US History curriculum!
Teach US History using great kids books.
---
---
By Carol Otis Hurst!!

Rocks in His Head.

Pick up your copy of Carol's Award Winning Picture Book!
---
You can help fund this site at no cost to you!
If you shop at Amazon.com bookstore use
This Page
each time you enter Amazon.com.
More information
.
---