Stepping on the Cracks


by Mary Downing Hahn.

Novel. 224 pages. Grades 4-7.
Find this book: Local Bookstore, Amazon
, B&N

Teacher's Guide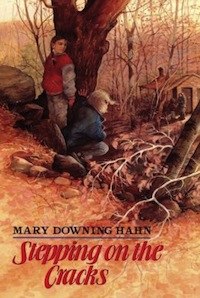 It's 1944 and World War II is raging. On the homefront in the US Margaret and Elizabeth are next-door neighbors and best friends with vastly different personalities. Both are harassed by the school bully. Both have brothers who are fighting overseas and they, like the rest of their families, are worried about them. Each, at the beginning of the book, is convinced that the war is necessary and a little bit glamorous.
When they are confronted with a sick deserter hiding out in the woods, they are, at first, horrified and convinced that he is a traitor. Soon their sympathy overrides their distaste and they end up getting help for him. Gradually the girls become aware that there are some people whose ethics are violated by any kind of warfare, no matter how just the cause may seem.
The deserter's stance against war is not simplistically portrayed and there is much food for thought in this book—ethics, cowardice, patriotism.


Things to Talk About and Notice
A look at Hahn's considerable skills as a writer is a good discussion topic for this book. She manages to portray an era, deal with and debate the concept of pacifism while still giving us the believable characters of Elizabeth and Margaret. How she does that through the details and descriptions she includes is a study in writing.

Why did people hang blue and gold stars in the windows of homes where family members were in the service or had been killed in the war?

Notice the clothing styles the author mentions. Look at some photographs of people at that time. Do you like the look?

Talk about the role the radio played in people's lives then.

What are the reasons for Gordy's anger and fears? Do you blame him?

Look at the role of the teacher. Why didn't they ask her for help? What might she have done?

Notice the way each adult in the book handles his or her concerns about the war.

What do you think of the attitude of the people who knew Mr. Smith was abusing his family? Would people today be apt to have the same attitudes toward family violence?

Gordy frightens the girls by telling them there is a crazy man in the woods. Is he telling the truth?

Activities
The pacifism portrayed in the book can be the focus for a debate.

On a lighter level, life in small town Maryland during World War II is carefully depicted in Hahn's book. The toys and pastimes of the era and the effect of rationing and shortages as well as the patriotism of the time are strong parts of the book. Students might like to investigate any of these things more carefully.

Make a map of your neighborhood like the one of Margaret's in the front of the book.

Mark the places on your map where someone could be hidden for a few days without anyone finding him or her.

Find out as much as you can about each radio program that is mentioned in the book.

Compare Gordy to other bullies such as the ones in Spinelli's Maniac Magee and Warnock's The Night the Bells Rang (see below).

Find out about the number of deserters in various wars. What were the punishments.

Role play a meeting of Elizabeth and Margaret years later with grown sons of their own. What will they advise their sons to do in the event of war? What would you do?

Compare this book to books about families in other wars. What is similar and what is different about their actions and feelings?

Students might like to read Shades of Gray by Caroline Reeder as well as Avi's Fighting Ground (see below) to get some idea of and perspective on arguments for and against pacifism as experienced in other wars.


Related Books


Related Areas Within Carol Hurst's Children's Literature Web Site
Search Our Site
---
Subscribe to our Free Email Newsletter.
Sign Up!

---
Advertisements:
---
In Times Past
an eBook
by Carol Hurst and Rebecca Otis
Integrating US History with Literature in Grades 3-8.
Enliven your US History curriculum!
Teach US History using great kids books.
---
---
By Carol Otis Hurst!!

Rocks in His Head.

Pick up your copy of Carol's Award Winning Picture Book!
---
You can help fund this site at no cost to you!
If you shop at Amazon.com bookstore use
This Page
each time you enter Amazon.com.
More information
.