Thank You, Jackie Robinson


by Barbara Cohen. Illustrated by John Steptoe.

Novel. 128 pages. Grades 4-7.
Find this book: Local Bookstore, Amazon
, B&N

Review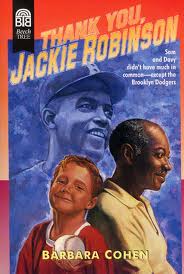 Sam Green is nuts about baseball. He is such an avid Dodger fan that he has memorized every single game they've played in his lifetime. It's the late 1940's and Sam lives with his three sisters and his widowed mother who runs an inn in New Jersey.
Spoiler Alert: This review gives away the ending.
When the new African American cook at the inn, Davy, turns out to love the Dodgers as much as Sam, a close friendship between man and boy begins. They especially admire Jackie Robinson, the first black man in major league baseball. Together Davy and Sam set out to see a game at each ballpark within a day's drive of their home. They can't go any farther than that since, in the 1940's, segregation prevents Davy from entering any hotel.
When Davy has a heart attack, Sam (who is about ten) musters up his courage and gets past many obstacles to get Jackie Robinson's autograph on a baseball for Davy (who is sixty-ish), somehow convinced that the ball will make him better.
The first two paragraphs of this book are good to read aloud as an example of a strong opening:
"Listen. When I was a kid, I was crazy. Nuttier than a fruitcake. Madder than a hatter. Out of my head. You see, I had this obsession. This hang-up. It was all that mattered to me.
I was in love with the Brooklyn Dodgers."
This is an emotional book: Davy's illness, Sam's determination to get that autograph and Davy's death will leave most readers teary-eyed.


Things to Talk About and Notice
There's so much to talk about after this one that it's hard to know where to begin. Certainly the Jim Crow laws that kept Davy and Sam from being able to eat in restaurants or stay in hotels during the trips to ballparks are something every young person should know about.

Why couldn't Davy be buried in the same cemetery that Sam's father could?

Talk about the time when Sam ate something that wasn't on his list.

What do you think the title of this book means?

Activities
It's quite possible to find and interview people who lived in that time and experienced some of the horrors of segregation and that makes a good classroom project.

Find out if there were laws to protect African-Americans at that time. Had the laws changed since Civil War days? Did they differ from state to state? What are the laws now?

Jackie Robinson's breakthrough into the major leagues should raise the question of what happened to all the talented Black ballplayers before then and that can lead to an investigation of the Negro Leagues as well as Jackie Robinson's entire career. Why was he the chosen one to break the color barrier?

Find out about Preacher Roe, Roy Campanella, Jackie Robinson, Pee Wee Reese and Gil Hodges, the men who talked to Sam. What was each baseball career like? What happened to Jackie Robinson?

Figure out the batting order of the Brooklyn Dodgers at that time from the information in the book. Check your answers against the actual lineup.

Find out if the Dodgers won the pennant the year Davy died.

Baseball books are a great jumping off point for mathematics activities about statistics. How are they calculated? How are they used? Watch an inning of baseball and recalculate the players stats based on the inning.

Look at baseball cards. Talk to collectors. Find out why some are more valuable than others.

Decide who is the most avid baseball fan you know.

Find out if baseball rules have changed since the games in the book.

Play a game of baseball or softball.

Draw some maps based on Davy and Sam's travels. Do the measurements and calculations necessary to draw the maps to scale.

Compare Christian and Jewish burial customs.


Related Books
Maniac Magee by Jerry Spinelli. (1990, Little, Brown. ISBN 9780316807227. Order Info.) Novel. 184 pages. Gr 3-6.
Jeffrey Magee runs away and into a racially split town where he becomes the catalyst for change. This excellent novel is about prejudice and love and home and baseball and fear and understanding. It's about Jeffrey Lionel Magee, sometimes known as Maniac Magee, and about the people of the fictional town of Two Mills. Read More in our Teachers' Guide including activities, related books and links.

Bobby Baseball by Robert Kimmel Smith. (1991, Yearling. ISBN 9780440404170. Order Info.) Novel. 176 pages. Gr 3-6.
Bobby Ellis calls himself Bobby Baseball and the name is not as crazy as some of his friends think. Bobby dreams, writes and plays baseball. His father made it to professional baseball though never the major leagues but Bobby has his own path figured out. He will become a great little league pitcher and then to the semi-pros and, not only the major leagues, but to the Baseball Hall of Fame. His father is the coach of Bobby's team and he does let Bobby pitch, but it's the beginning of the end of Bobby's dream. Read More.

In the Year of the Boar & Jackie Robinson by Bette Bao Lord. (1986, HarperCollins. ISBN 9780064401753. Order Info.) Novel. 176 pages. Gr 4-8.
Shirley Temple Wong has come with her mother to join her father who has been living in Brooklyn preparing for their arrival. Adjustment to the new culture is not easy for Shirley, used to the extended family and customs of China. One of the few joys she has is in American baseball and she finally gets to meet her idol, Jackie Robinson.

Words by Heart by Ouida Sebestyen. (1983, Bantam. ISBN 9780440413462. Order Info.) Novel. 176 pages. Gr 4-8.
Lena Sills' preacher father has brought his family to an all white town in Missouri hoping to escape the hatred and violence of the south. It's the 1920's and Lena attends a one room school where they have a Bible verse contest every year. Much to everyone's surprise but hers, she wins. Now she and her whole family have to contend with the repercussions. Lena's hopes for acceptance are dashed but her father, one of the great heroes of children's literature strikes a bargain to help Lena continue her education.

We Are the Ship: The Story of Negro League Baseball by Kadir Nelson. (2008, Hyperion. ISBN 9780786808328. Order Info.) Nonfiction Picture Book. 96 pages. Gr 4-7.
This is Kadir Nelson's first time both writing and illustrating a book. He previously won a Caldecott Honor for illustrating Moses: When Harriet Tubman Led Her People to Freedom. Here his beautiful paintings bring an unexpected richness to baseball. There is a forward by Hank Aaron and text full of the history of baseball from the 1860's through 1947 and the effect that segregation and racism had on the game and the African American players who excelled at it.

Miles to Go for Freedom: Segregation and Civil Rights in the Jim Crow Years by Linda Barrett Osborne. (2012, Abrams. ISBN 9781419700200. Order Info.) Nonfiction. 128 pages. Gr 6-12.

Biographies of Jackie Robinson:

Jackie Robinson: Breaking the Color Barrier by Sean Stewart Price. (2008, Heinemann-Raintree. ISBN 9781410931245. Order Info.) Nonfiction. 32 pages. Gr 4-7.

Jackie's Bat by Marybeth Lorbiecki. Illustrated by Brian Pinkney. (2006, Simon & Schuster. ISBN 9780689841026. Order Info.) Picture Book Biography. 40 pages. Gr K-3.

When Jackie and Hank Met by Cathy Goldberg Fishman. Illustrated by Mark Elliott. (2012, Amazon Children's. ISBN 9780761461401. Order Info.) Nonfiction Picture Book. 40 pages. Gr K-3.

Stealing Home: Jackie Robinson: Against the Odds by Robert Burleigh. Illustrated by Mike Wimmer. (2007, Simon & Schuster. ISBN 978-0689862762. Order Info.) Nonfiction. 32 pages. Gr K-4.

Related Poetry:

"Merry-Go-Round" by Langston Hughes.

"Incident" by Countee Cullen


Related Areas Within Carol Hurst's Children's Literature Web Site
Search Our Site
---
Subscribe to our Free Email Newsletter.
Sign Up!

---
Advertisements:
---
In Times Past
an eBook
by Carol Hurst and Rebecca Otis
Integrating US History with Literature in Grades 3-8.
Enliven your US History curriculum!
Teach US History using great kids books.
---
---
By Carol Otis Hurst!!

Rocks in His Head.

Pick up your copy of Carol's Award Winning Picture Book!
---
You can help fund this site at no cost to you!
If you shop at Amazon.com bookstore use
This Page
each time you enter Amazon.com.
More information
.
---