The Widow's Broom


by Chris Van Allsburg.

Picture Book. 32 pages. Grades 2-8.
Find this book: Local Bookstore, Amazon
, B&N

Review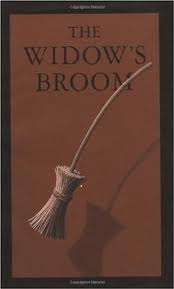 When a broom loses its flying power, it is left behind at Widow Minna Shaw's home. Gradually, the Widow discovers that the broom can be taught to do many things including playing the piano although what it does best and prefers to do is sweep. The widow is delighted but her neighbor, Mr. Spivey reacts with fear and loathing, considering it to be the devil's tool. Eventually, he comes with some other neighbors to demand the Widow's broom. Regretfully, she tells them it is in the closet and that it is sleeping. Carefully they remove the broom, tie it to a stake and burn it. Later, the ghost of the broom is seen coming closer and closer to the Spivey's house. It's not until the Spivey's have moved away that we discover the trick the widow has played so that she and her broom can live in peace.




Related Areas Within Carol Hurst's Children's Literature Web Site
US History. The Widow's Broom goes well with any unit on the Salem Witch Trials.
Search Our Site
---
Subscribe to our Free Email Newsletter.
Sign Up!

---
Advertisements:
---
In Times Past
an eBook
by Carol Hurst and Rebecca Otis
Integrating US History with Literature in Grades 3-8.
Enliven your US History curriculum!
Teach US History using great kids books.
---
---
By Carol Otis Hurst!!

Rocks in His Head.

Pick up your copy of Carol's Award Winning Picture Book!
---
You can help fund this site at no cost to you!
If you shop at Amazon.com bookstore use
This Page
each time you enter Amazon.com.
More information
.