Woodsong


by Paulsen, Gary. (Bradbury, 1990 ISBN 0027702219. Order Info) Novel. Grades 3+.
This book was reviewed by Carol Otis Hurst in Teaching K-8 Magazine.


Review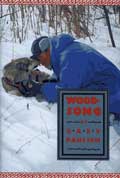 These are autobiographical sketches of Paulsen's experiences in the north woods. There is acceptance and respect for animal life, especially sled dogs, in all its harsh reality. A good portion of the book relates the author's experiences in running the Iditarod. These are good adventure and outdoor stories which should appeal to outdoor enthusiasts and to animal lovers.
Paulsen's respect for the woods and for animals in apparent here and many of his descriptions of the scenes and of the animals are worth reading aloud. There are also wildly funny parts which contrast to his graphic and sometimes bloody descriptions. Woodsong is also a book about ignorance which comes from thinking you know it all. The process by which Paulsen learns his lessons and the depth of those lessons taught by "dumb" animals is one he shares with the reader. It is not so much a book of "man against nature" as it is that of a single man hoping to establish an accord with it. Paulsen avoids anthropomorphizing his animals but his respect for them is apparent. There is no chronological sequence here and so the book takes on the character of memories shared at a campfire.

Related Areas of Carol Hurst's Children's Literature Site

Related Areas on Other Web Sites