Maurice Sendak

The Author:
Perhaps more than any other author/illustrator, Maurice Sendak is responsible for the attention and respect currently given children's literature. Although much of his work is unsettling, even disturbing, it opened up new vistas for the field. Viewing each of his books as a work of art in and of itself, Sendak is less interested in writing specifically "for children" than he is in using this form as self-expression. He has identified the theme in his books as being, "how kids get through a day, how they survive tedium, boredom, how they cope with anger, frustration".
Sendak changed the look of books for young children and became an indelible part of American popular culture. When Where the Wild Things Are was published in 1963, Sendak's monsters were often considered much too frightening for children. Today children are apt to take stuffed likenesses of these creatures to bed with them. See our Featured Book article on Where the Wild Things Are with activities, related books and links.
(Continued Below)
---
Advertisement:
---
Born in 1928, he grew up in Brooklyn as the youngest of the three children of Sadie and Philip Sendak who had immigrated there from Poland. Often ill as a child, he spent a good deal of his time sitting in the window of the tenement in which he lived, looking down on the children, mostly immigrant children, playing on the city streets and sidewalks below. He and his brother Jack were very fond of toys and gadgets, particularly those which involved Mickey Mouse. To this day, Mr. Sendak collects such toys. Sometimes Jack would write stories and Maurice would illustrate them. He loves Mozart and often plays his music while he writes and draws. He is also very fond of dogs, particularly German Shepherds.
"I seem to have been blessed, or cursed, with a vivid memory of childhood," Sendak has said. "This is not supposed to happen. According to Freud, there's a valve that shuts off the horrors of childhood to make room for the horrors of adolescence. I must have a leaky valve, because I have torrential memories. From a career standpoint, I guess that's been a good thing. Socially, it's been nothing short of disaster." As a child, he would illustrate stories his brother wrote, and they would both perform for the family, his brother reading while Maurice showed the illustrations.

He used to watch a girl across the street named Rosie, and she became important to his young imaginative life. It is this girl and another little girl with a terminal illness that he visited in the hospital that he spoke of when he said, "My books are written for and dedicated to children like Rosie and this little girl. Children who are never satisfied with condescending material. Children who understand real emotion and real feeling. Children who are not afraid of knowing emotional truth." Concerned with the inner life of the child, Sendak claims he is obsessed with the fantasies that children create "to combat an awful fact of childhood."
When he received the Caldecott Medal for Where the Wild Things Are (1963), he said that children "continually cope with frustration as best they can. And it is through fantasy that children achieve catharsis. It is the best means they have for taming Wild Things." Before he created this classic children's book, Sendak illustrated nearly fifty books written by other writers. He had many brilliant successes, but he longed to express "how kids get through a day, how they survive tedium, boredom, how they cope with anger, frustration." He described his own childhood as "miserable," often very ill with measles, pneumonia, and scarlet fever.
(Continued Below)
---
Advertisement:
---
The Sign on Rosie's Door (1960) is based on the neighbor across the street that Sendak used to spy on and sketch. This was developed into an animated television play with music by Carole King called, Really Rosie, starring the Nutshell Kids in 1974. In 1977 he wrote a Broadway play called Really Rosie, which drew its characters from the popular boxed set of four books called The Nutshell Library (1962).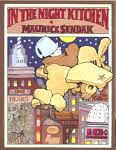 Where the Wild Things Are, however, was his breakthrough book creatively. It was the first full-color book of its type that he both wrote and illustrated; and it was the first to explore the inner life of a child. In 1970, he continued his journey into the darker side with In the Night Kitchen, which took the reader into the surreal fantasy of a child's dream. In the Night Kitchen uses food containers and implements from the 1930's as buildings. Dedicated to Sendak's parents, there are other allusions to them in the book as well as Sendak's own birth date. The cooks strongly resemble Oliver Hardy and the phrase "baked while you sleep" is an advertising slogan from the period. Sendak's art style for this book is cartoon like. His Mickey looks very much like Max in Where the Wild Things Are. In 1981 he published the third book of what Sendak considers his trilogy, Outside Over There (1981). This book concerns the fantasy of Ida, who must baby-sit her little sister. The baby is stolen by goblins and Ida must imagine a way to recover her charge.
Sendak has taken on other creative challenges over the years. He has been a designer for ballet and opera. He has invested time in several film projects and has helped to establish a national touring theater company, The Night Kitchen Theater. Although he has no children of his own, Sendak says he can hardly hold back the tears when "parents who were little people when I wrote the book present their children to me. And here are these new human beings with their eyes beaming, and they are again in wolf suits."
Books Written and Illustrated by Sendak:
Alligators All Around (HarperCollins, 1962 ISBN 0060255307. Order Info.)
Part of the original "Nutshell Library" this is an alphabet book in which alligators demonstrate each letter's use.
Chicken Soup with Rice (HarperCollins, 1962 ISBN 0060255358. Order Info.)
Also part of the Nutshell Library, this delightful poem finds good in every month of the year. The chant-able text makes this particularly useful in early childhood classrooms.
Dear Mili (Farrar, 1988 ISBN 0374317623. Order Info.)
This disturbing and religious tale from Grimm concerns a widowed mother who sends her daughter into the forest to evade the oncoming war. Although apparently gone for three days, the child finds that thirty years have passed when she returns home to die with her mother after a happy reunion.
Hector Protector (HarperCollins, 2001 ISBN 0060286423. Order Info.)
Two Mother Goose rhymes are extended and expanded in this picture book.
Higglety Pigglety Pop! or There Must Be More to Life (HarperCollins, 2001 ISBN 006028479X. Order Info.)
Jennie, a dog, leaves home to more fully experience life. This title is currently (Nov 2009) out of print but is widely available used and from libraries.
In the Night Kitchen (HarperCollins, 1970 ISBN 0060254890. Order Info.)
This cartoon like book has echoes of his earlier Where the Wild Things Are and contains many allusions to the author's childhood. Mickey falls into the Night Kitchen, where he emerges from dough and flies to the Milky Way before falling back into his own bed.
King Grisly-Beard (Viking, 1978 ISBN 0374341338. Order Info.)
The fairy tale is being performed as a play with amusing asides from the boy and girl who watch it with us. This title is currently (Nov 2009) out of print but is widely available used and from libraries.
Maurice Sendak's Really Rosie (HarperCollins, 1986 ISBN 006443138X. Order Info.)
This is a book based on a TV show that was based on a book. The original Sendak title was The Sign on Rosie's Door. This version includes seven songs.
One Was Johnny: A Counting Book (HarperCollins, 1962 ISBN 0060255404. Order Info.)
This small and simple rhyming book was one of the "Nutshell Library".

Outside Over There (HarperCollins, 1981 ISBN 0060255234. Order Info.)
This beautiful but disturbing book revolves around Ida who turns her back on her baby brother only to have him captured by goblins. Undeterred she bests them in their home. Outside Over There contains visual allusions to the Lindbergh kidnapping which frightened many parents and children of the thirties. Done in a romantic, full color style, this work also contains a picture of Mozart whose music is beloved by Sendak.
Pierre (HarperCollins, 1962 ISBN 0060259655. Order Info.)
This cautionary tale about a boy who says, "I won't" one time too often is the fourth in the Nutshell Library.
The Sign on Rosie's Door (HarperCollins, 2002 ISBN 0060287950. Order Info.)
Rosie has secrets behind the door and callers must give a secret knock to enter.
Some Swell Pup (Farrar, 1989 ISBN 0374469636. Order Info.)
Although there is a story line here, the book is more of a manual about taking care of a dog than it is a narrative. This title is currently (Nov 2009) out of print but is widely available used and from libraries.
Very Far Away (HarperCollins, 1957 ISBN 0060255153. Order Info.)
When Martin's mother refuses to answer his questions, he goes elsewhere to find the answers.
We Are All in the Dumps with Jack and Guy (HarperCollins, 1993 ISBN 0062050141. Order Info.)
Using two Mother Goose rhymes as anchors, Sendak tells a tale of homeless children, starting in New York and ends at an orphanage resembling Auschwitz. There are many other allusions: the Cheshire cat, and Trump Tower, for instance, in this dark tale.
Where the Wild Things Are (HarperCollins, 1964 ISBN 0060255218. Order Info.)
This is Sendak's best known work in which Max, exiled to his room because of monstrous behavior, sails away to the land of the Wild Things, where he becomes king of them all. See our Featured Book Article with activities, related books and links.
Books by Others Illustrated by Sendak:
DeJong, Meindert The House of Sixty Fathers (HarperCollins, 1987 ISBN 0064402002. Order Info.)
Set in China during the early days of the Japanese invasion, this book tells of Tien Pao, a young Chinese boy separated from his parents and befriended by the GI's, his "sixty fathers".
Marshall, James Swine Lake (HarperCollins, 1999 ISBN 0062051717. Order Info.)
A hungry wolf finds, to his delight, that a ballet performance of "Swine Lake" is about to occur. The wolf becomes entranced by the ballet and the story it tells. When the ballet ends, the wolf rushes home to get money for the next night's ticket. This time he does pounce onto the stage but not to eat pigs -- to dance.
Minarik, Else H. Father Bear Comes Home (HarperCollins, 1959 ISBN 0060242310. Order Info.)
This is just one of several Little Bear books illustrated by Sendak. These easy to read books are particularly charming and whimsical.
Zolotow, Charlotte Mr. Rabbit and the Lovely Present (HarperCollins, 1962 ISBN 0060269456. Order Info.)
A child wants to give her mother something special for her birthday and a large rabbit helps her decide what it should be.
(Continued Below)
---
Advertisement:
---

Related Areas of Carol Hurst's Children's Literature Site