Virginia Hamilton

This article Sponsored by Linworth Publishing
http://www.linworth.com
Linworth Publishing, Inc. publishes books and The Book Report
and Library Talk magazines for school library media specialists
and teachers. Please visit our Web site at www.linworth.com!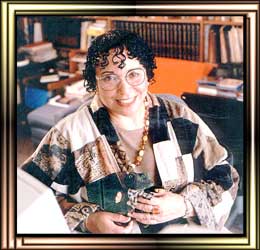 Virginia Hamilton, together with two brothers and two sisters, grew up on a large farm in Yellow Springs, Ohio. Her mother was Etta Belle. (You'll see that name in some of her books). Her father was Kenneth James Hamilton, the manager of the dining hall at nearby Antioch College and a farmer. The farm was large and was surrounded by the farms of other relatives. She has said that you could "range a whole day and never leave family land". She has lived in Columbus, Ohio, and New York City. Her husband was Arnold Adoff, the poet and children's author. They have two children, Leigh and Jaime. Virginia Hamilton died in 2002.
Virginia Hamilton's contribution to the field of African American literature for children is substantial and quite wonderful. This is partly because of the breadth of her work. She is a storyteller and many of her books are collections of African American folktales. Her novels explore new ground and have given us some of the strongest, most interesting characters in children's literature. Her non-fictional and biographical works bring the famous and the not so famous people of the past to the forefront. Virginia Hamilton always wanted to be a writer and when she burst into the field in 1967 with her first novel, Zeely, the children's book world had little doubt that a new strong voice had been heard from.
You can find an interview with Virginia Hamilton at Amazon.com
The author's official website is at http://www.virginiahamilton.com/
See below for more related links.
Bibliography:
Nonfiction
Anthony Burns: The Defeat and Triumph of a Fugitive Slave. Random House, 1993 ISBN 0679839976.Paperback.
This is a non-fictional account of the man who was put on trial in Boston in 1854 under the Fugitive Slave Law. Hamilton places the trial in the political context of the time and, through her portrayal of this one man, manages to bring the horrors of slavery to the front of the stage. (Grades 5 up)
Many Thousand Gone: African Americans from Slavery to Freedom. Knopf, 1995 ISBN 0679879366. Paperback, Hardcover.
Stunningly illustrated by Leo and Diane Dillon, these vignettes and tales are divided into three categories: "Slavery in America," "Running-Aways," and "Exodus to Freedom," and appear more or less in chronological order. The effect is to personalize slavery and to portray the indomitable people in its grasp. The events vary from the everyday existence to the monumental and pivotal.
Fiction
Arilla Sun Down. Demco, 1995 ISBN 0606072071. Paperback, Library Binding.
A bi-racial teenager tries to find her path in life in this coming of age story. Half Native American and half African American, she finds herself unable to feel part of either group. She envies her brother Jack (Sun) who has found his place. The book deals with family, community and bigotry as well as personal identity.
Bluish. Blue Sky Press, 1999 ISBN 0590288792. Hardcover.
This is Virginia Hamilton's latest novel. Dreenie meets Bluish as a fellow student in fifth grade at the new magnet school. Bluish (real name Natalie) gets her nickname from the peculiar color of her skin, a result of chemotherapy. Bluish demands to be treated like the others and a strong bond develops between Dreenie and Bluish. More books set in schools.
Cousins. Philomel, 1990 ISBN 0399221646. Hardcover, Paperback.
The cousins are two girls, Cammy and Patty Ann. Cammy has a good relationship with most of her family but her relationship with her grandmother, Tut, is particularly strong and loving. Patty Ann, however, is a different cup of tea. She's beautiful and smart but spoiled, selfish and rude. In exasperation, Cammy wishes Patty Ann were dead. Then Patty Ann drowns. Not only that, Patty Ann dies a hero by rescuing another cousin, Elodie. Cammy must handle guilt and remorse and it's her loving family, particularly Gram Tut that helps her through it. The book is short but the characters are fully developed.
The House of Dies Drear. Aladdin, 1984 ISBN 0020435207. Paperback, Hardcover.
Here's a mystery to savor. The house is old and was once a part of the Underground Railroad. Young Thomas Small has recently moved with his family into the house and soon learns about the legend, some ghosts and the labyrinth of tunnels throughout the house. This is an excellent historical mystery.
M. C. Higgins, the Great. Simon & Schuster, 1991 ISBN 0027424804. Hardcover, Library Binding, Paperback.
This is a powerful novel about family, the environment, commerce and the clashes among them. M.C.'s family has lived at the foot of the mountain ever since his Great-Grandmother Sarah arrived there as a runaway slave. Now strip mining is threatening their home. Although his family is supportive, it's two strangers who help him save Sarah's Mountain.
The Mystery of Drear House: The Conclusion of the Dies Drear Chronicle. Scholastic, 1997 ISBN 0590956272. Paperback, Hardcover.
Written eighteen years after House of Dies Drear this sequel takes place eight months later. In what the author calls a more psychological book, some of the mysteries of the house are revealed and the legend of Indian Maiden comes into play.
Plain City. Scholastic, 1993 ISBN 0590473646. Library Binding, Paperback.
Like Arilla in Arilla Sun Down, Twelve year old Buhlaire is of mixed race. She is an outsider at school but receives ample love and attention from her extended family. She's been told that her father is dead but he turns up in this small mid-western town. Furious that her family has lied to her, Buhlaire almost runs away with him. She is dissuaded by a classmate she thought to be her enemy.
The Planet of Junior Brown. Aladdin, 1986 ISBN 0020435401. Paperback, Hardcover, Large Print. It's a strange coupling these two eighth grade boys manage to have. One is a neurotic musical prodigy, Junior Brown. The other, Buddy Clark, is a homeless child of the streets. It is Buddy that takes on the responsibility of helping his isolated friend survive.
Second Cousins. Scholastic, 1998 ISBN 0590473689. Library Binding, Hardcover.
This is a sequel to Cousins. It's a year after the death of Patty Ann but both Cammy and Elodie are still dealing with the guilt. Cammy's guilt is that she wished Patty Ann dead and Elodie's is that Patty Ann drowned saving her. The two have reached out for and helped each other through some of the grief & guilt. Now, at an extended family reunion, they meet Fractal, an odd computer savvy cousin, who stands at the heart of a deep family secret.
Sweet Whispers, Brother Rush. Avon, 1987 ISBN 0380651929. Paperback, Hardcover.
Tree is often alone with her developmentally disabled brother Dab. Their mother works as a practical nurse and the father is long-gone. Tree resents her lot until the voice of a uncle leads her to understanding.
Zeely. Simon & Schuster, 1968 ISBN 0027424707. Library Binding, Paperback.
Zeely's job, raising hogs, is not glamorous but, to Geeder (Elizabeth), at least, Zeely is the embodiment of an African queen. When she dares to make friends, Geeder learns a lot about herself as well as about this tall and stately woman.
Folktales
Her Stories. Scholastic, 1995 ISBN 0590473700. Library Binding.
This wonderful anthology is illustrated by Leo and Diane Dillon. The combination of their strong and beautiful graphics are perfectly matched with Hamilton's African American hero tales all starring females. Hamilton's colloquial style seems to speak aloud as you read the pages of animal, human, supernatural and pourquoi tales.
In the Beginning. Harcourt, 1991 ISBN 0152387420. Paperback, Hardcover.
Creation stories from all over the world reflect the diverse cultures from which they come.
The People Could Fly. Random House, 1987 ISBN 0394969251. Library Binding, Paperback.
Black history is portrayed through the folk tales in a compilation which is sometimes stirring, sometimes frightening and other times funny. The voice of the storyteller is particularly strong here. A very informative glossary is included in this anthology illustrated by the Dillons.
Ring of Tricksters: Animal Tales from America, the West Indies, and Africa. Scholastic, 1997 ISBN 0590473743. Library Binding.
The tricksters in this collection, illustrated by Barry Moser, include Br'er Rabbit, Anansi and Cunnie Rabbit among others. Again, the sure voice of the storyteller dominates the book making the tales beg to be read aloud.
When Birds Could Talk & Bats Could Sing: The Adventures of Bruh Sparrow, Sis Wren and Their Friends. Scholastic, 1996 ISBN 0590473727. Library Binding.
Eight bird tales makes up this anthology of fables in which the morals are plainly stated.

Related Areas of Carol Hurst's Children's Literature Site

Related Areas on the Internet
Return to Table of contents of November 1999 Newsletter
This article first appeared in the November 1999 Newsletter.
---
Advertisement:
---
---
Advertisement:
---
---
Advertisement:
---