Newsletter, Volume 8, Number 4

Welcome to our newsletter. If you'd like to have each issue delivered to your email address you can sign-up for a subscription.
In This Issue You'll Find:
News. See Below.
Featured Author: Mitsumasa Anno.
News: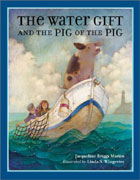 Don't miss the new picture book by Jackie Briggs Martin, The Water Gift and the Pig of the Pig (Houghton Mifflin, 2003. ISBN 0618074368. Order Info.) Illustrated by Linda S. Wingerter. Although Grandfather's gift of finding water (and several lost things) gets top billing in the title, it's the pig that takes front and center stage. This is the daughter of the pig that sailed around Cape Horn with Grandfather and this is, to grab a phrase from E. B. White, some pig! She can dance a three legged jig, share a secret handshake with Isabel, our narrator, smell a coming storm, and hum to a catchy tune.
Grandfather's skill with a dowsing rod is unquestioned until everything starts going wrong. He finds water, but it is tainted. He takes a bad fall and loses faith in himself. Then Pig of the Pig is lost and that is the worst of all. As in many of her books, Martin takes us to another time with what seems like no effort at all. The reader is left with no doubt that this whole thing happened and, if it didn't, well, it should have.

The book is a great read-aloud from kindergarten on up. Do allow time to relish such phrases as Grandmother's "determination hat," the villain who was so mean he "wouldn't give away the good smell from a piece of warm toast," and to enjoy the illustrations that fit the mood of this right on tale.
For an easy reader with a pig lead character see our review of Mercy Watson Thinks Like a Pig by Kate DiCamillo.
In keeping with our issue on Mitsumasa Anno we wanted you to know that the current exhibit at the Eric Carle Museum of Picture Book Art is on Mitsumasa Anno.
The Art of Mitsumasa Anno: Bridging Cultures
April 14, 2003 - June 29, 2003
The Eric Carle Museum of Picture Book Art
125 West Bay Road, Amherst, MA 01002
(413) 658-1100
Here are a couple of upcoming appearances, speeches or workshops by Carol:
May 23, 2003 - Bishop School, Storytelling and Inservice in Norwich, CT
June 4, 2003 - Duval County, Florida Teachers' Inservice in Duval County, FL
June 5, 2003 - Clay County Florida Teachers' Inservice in Jacksonville, FL
You can find out more information on any of these by writing to Carol Hurst at rebecca@carolhurst.com
For those who missed our last newsletter the most recent additions to our web site are:
Featured Book: "In Plain Sight" by Carol Otis Hurst
Featured Subject: Folk and Fairy Tales, Tongue-In-Cheek Versions.
Featured Book: The Keeping Quilt by Patricia Polacco.
Featured Subject: Kids Books Set in Schools.
Featured Title: Keeper of the Doves by Betsy Byars.
Featured Subject: Biographies and Memoirs.
Featured Subject: Reading Aloud, Recommended Titles.

Next Section of Newsletter:
Featured Author: Mitsumasa Anno
---
Advertisement:
---
---
Advertisement:
---
---
Advertisement:
---