Newsletter, Volume 14, Number 4

Welcome to our newsletter. If you'd like to have each issue delivered to your email address you can sign-up for a subscription.
In this issue I've included the reviews of several books newly added to the website.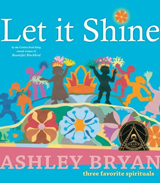 Nonfiction Picture Book, Gr PreK-5
Let it Shine by Ashley Bryan. (2007, Atheneum. ISBN 9780689847325.) Picture Book. 38 pages. Grades PreK-5. Order Info.

Vibrant cut construction paper collages illustrate this inspirational picture book/song book. The words of "This Little Light of Mine," "When the Saints Go Marching In" and "He's Got the Whole World in His Hands" accompany the full double spread illustrations. At the end of the book the author has included the music and an afterward about slavery and the origin of the spirituals.
Winner of the 2008 Coretta Scott King award this book is great for sing-alongs and individual reading. The illustrations are also great for inspiriting kids and adults alike to get out their scissors, construction paper and glue sticks and to start collaging. The author also won the Coretta Scott King Award for Beautiful Blackbird.
See also Slavery through Kids Books: Featured Subject with Books, Activities and Links:
http://www.carolhurst.com/subjects/slavery.html
Picture Book, Gr PreK-3

Catching the Moon by Myla Goldberg. (2007, Levine/Scholastic. ISBN 9780439576864.) Picture Book. 40 pages. Grades PreK-3. Order Info.

The old Fisherwoman has started fishing late at night sending her pet mouse, instead of bait, out with the hook. The mouse brings back a lobster and a tea cup but never what the Fisherwoman is looking for. The fishermen think she has gone mad.
Every month on the new moon she is visited by the moon -- cleverly disguised behind sunglasses. He is trying to understand her strange behavior. As their friendship deepens she reveals that she is sending her mouse (who loves cheese) out to catch the moon in its reflection on the sea. She wants to talk to the moon because the high tides he causes are eating away at the foundations of the fisherpeople's cottages.
Warm, glowing paintings, rich with blues and golds, give this fantasy a dreamy mood. A gentle and endearing story of a woman out to solve a problem in an unorthodox way.
See also Oceans in Kids' Books: Featured Subject with Books, Activities and Links:
http://www.carolhurst.com/subjects/oceans.html
Easy Reader, Gr K-2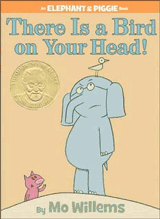 There is a Bird on Your Head by Mo Willems. (2007, Hyperion. ISBN 9781423106869.) Easy Reader. 57 pages. Grades K-2. Order Info.

Winner of the 2008 Geisel Award this book is a gem. Mo Willems has written several delightful titles but this is my favorite.
In this installment of the Elephant and Piggie series the two are relaxing peacefully when a bird lands on Elephant's head. Elephant is undone. As he panics Piggie gives him updates: "Now there are two birds on your head." "They are in love!" "They are making a nest!"
The text is very easy to read with limited vocabulary, large print, and numerous clues in the illustrations. Elephant's reactions are very funny and Piggie's expressions of concern, amusement, and confusion are a great counterpoint. The book lends itself to dramatic reading aloud as Elephant shouts and Piggie reacts.
Kids will love the surprise ending. There is a Bird on Your Head! stands up well to repeated readings and the humor and drama make it a great choice for beginning readers to take home and read to their families.
The illustrations are simple crayon-like black outlines filled with a solid color creating cartoon characters. The expressiveness of Elephant and Piggie's features give us not only broad expressions like happiness and surprise, we also get all the subtleties which expand on the basic text. There is chagrin when two birds land, innocence in Piggie's explanations, Elephant's embarrassment when the birds on his head fall in love, and tears of joy when the eggs hatch.
Great fun. Check it out.
See also Emergent Readers: Featured Subject with Books, Activities, and Links.
http://www.carolhurst.com/profsubjects/reading/emergentreaders.html
Nonfiction, Gr 4-7
Amelia Earhart by Shelley Tanaka. (2008, Abram. ISBN 9780810970953.) Nonfiction. 48 pages. Grades 4-7. Order Info.

Amelia Earhart saw her first airplane at the Iowa State Fair in 1908 when she was only eleven but she was not impressed. Later in life, after working as a nurse's aid, file clerk, photographer, truck driver, teacher and social worker, she was asked to ride as a passenger on a very risky flight across the Atlantic. This made her the first woman to travel in a plane across the Atlantic. She became famous and began a career as a pilot and public speaker.
She spoke extensively on the roles of women and their ability to do anything men can do. She also talked about the experience of flying -- wanting people to not be afraid and to embrace this new form of transportation.
In 1932 she became the first female pilot to fly across the Atlantic. In 1935 she became the first female pilot to fly from Hawaii to California. In 1937 she flew three quarters of the way around the world before disappearing over the ocean.
This book covers her childhood and her flying career. It is well written, full of great information even as it flows along quickly. The text is illustrated with period photographs and a few original illustrations. It won the 2009 Orbis Pictus Award for Outstanding Nonfiction.
The author goes into the theories of what might have happened to her on that final flight and shows photos of some of the artifacts that have been found on the island where she and her navigator may have been stranded. Source notes, a bibliography, recommended websites and an index are included.
See also:
Novel, Gr 5-9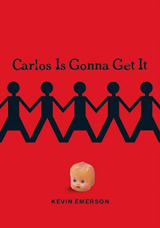 Carlos Is Gonna Get It by Kevin Emerson. (2008, Levine/Scholastic. ISBN 9780439935258.) Novel. 291 pages. Grades 5-9. Order Info.

Trina is in seventh grade and she and a small circle of friends have a problem. Carlos is driving them crazy. He talks in a weird voice and scratches himself incessantly. When he gets on their nerves their responses end up getting them in trouble. They resent that he never gets in trouble because he is a special needs student.
Trina and her friends hatch a plan to teach Carlos a lesson once and for all. In the meantime Trina has to work with Carlos on a science project and finds she cares about him once she understands him better.
As the execution of the plan nears Trina is torn between not wanting to stand up to her friends, concern about Carlos and her own anger at him.
The dynamics between the students ring true and the issues of bullying, special needs, compassion and guilt are honestly laid out. This is a gripping story about everyday middle school dramas and one individual's reactions.
See Also Bullying through Kids' Books: Featured Article with Books, Activities and Links:
http://www.carolhurst.com/subjects/bullies.html
Novel Gr 6-10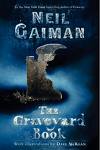 The Graveyard Book by Neil Gaiman. (2008, HarperCollins. ISBN 9780060530921.) Novel. 312 pages. Grades 6-10. Order Info.

In The Graveyard Book Neil Gaiman, author of the New York Times bestseller Coraline gives us a playful romp through an alternative world of ghosts and ghouls while slowly unfolding the mystery of who is after Nobody. It won him the 2009 Newbery Award.
The first five pages of this novel open with a picture book style balance of graphics to text on the page but the ink wash illustrations of this dark tale are anything but childlike. Still, the graphic opening provides an accessible beginning. Once the story begins its only the first pages of each chapter that are illustrated.
The opening line, "There was a hand in the darkness, and it held a knife." in white text on an all-black page across from the hand and knife appearing out of the darkness set the stage for the opening murders.
A toddler's parents are killed by a man on some kind of mysterious mission to wipe out the family but the child escapes to a graveyard. There the new but still weak ghosts of his parents turn custody of him over to a couple of ghosts. The toddler is given the name Nobody and the ghosts of the graveyard raise him.
Nobody grows up among this assortment of odd characters. He's been granted special status by the denizens of the graveyard and so he can see ghosts and walked through walls. He has also been given a provider, named Silas, who seems to be neither ghosts nor living but who can leave the graveyard to obtain food and other supplies.
Set in England, this would be an oblique but fitting match for a unit on English history, gravestones or fantasy. It is, of course, a perfect fit for a unit on ghost stories or mysteries. It has a very Gothic feel.
There is also a great recorded version of this book read by the author (Recorded Books, 2008). Order Info.
Happy reading!
Rebecca Otis
---
Advertisement:
---
---
Advertisement:
---
---
Advertisement:
---