Carol Hurst's Children's Literature Site
Newsletter, Volume 15, Number 2
Book Reviews: Grades PreK through 10th

Reviews

At the time of this writing Amazon.com has a way to look inside all of these books, except for the Mercy Watson title, to read an excerpt and/or see illustrations. By clicking on the "Order Info" link after each book title you can access this feature.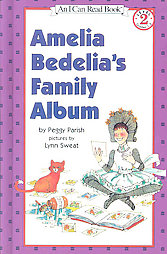 Amelia Bedelia's Family Album by Peggy Parish. Illustrated by Lynn Sweat. (2003, Greenwillow. ISBN 9780060511166. Order Info.) Picture Book. 48 pages. Gr K-3.
Amelia Bedelia's been around a long time. Even the characters in this, the last book written by Peggy Parish in the series, are aware of her longevity. In fact, they want to have a party with all of her relatives invited to celebrate it. So Amelia gets out her family album. This is as full of word play as any of the books but, with the theme of occupations for her relatives, the jokes seem even stronger than usual. As on many family trees, there are a few lemons on Amelia Bedelia's. One of her relatives takes pictures, she says. "'What kind of pictures does he take?' asked Mr. Rogers. 'Any kind,' said Amelia Bedelia. 'You really have to watch him. He will take every picture in the house.'" Her bookkeeping relative is not particularly good at numbers, she just keeps books and never returns them. Her Cousin Chester is a printer. They never could teach him how to write. Read More.
Also see our Featured Subject, Work and Occupations, a literature based unit with activities, related books and links.
And our Featured Subject, Families, a literature based unit with activities, related books and links.
And Local History and Family Stories, another literature based unit.

Mercy Watson Thinks Like a Pig by Kate DiCamillo. Illustrated by Chris Van Dusen. (2008, Candlewick. ISBN 9780763632656. Order Info.) Easy Reader. 70 pages. Gr K-4.
The author of such substantial novels as the Newbery Award winning The Tale of Despereaux and Because of Winn-Dixie (More info) has turned her sure hand to lighter fare in this series of easy readers. It's always great to have another fresh voice in the genre.
This is the fifth book about the pig, Mercy Watson. The text is rich with judiciously sprinkled juicy words like unmentionable and Èclairs and gracious.
The text is very playful and light and the illustrations are vibrant and exuberant. They overflow the pages with their rounded shapes and glossy texture--like rainbow bubbles.
The pig is only partly anthropomorphized as the beloved pet of Mr. and Mrs. Watson and most of the other characters are human. In this installment Mercy's neighbors--the elderly women, named Eugenia and Baby, have decided to beautify their yard by planting pansies all around, which Mercy finds delicious.
The Storm in the Barn by Matt Phelan. (2009, Candlewick. ISBN 9780763636180. Order Info.) Graphic Novel. 208 pages. Gr 3-10.
Where the children's literature tradition of wordless books meets the comic book tradition through today's graphic novels comes The Storm in the Barn. Many pages are wordless and most are broken into four to eight cells.
This winner of the Scott OíDell Award for Historical Fiction is an outstanding example of a graphic novel which excels at illustrating a historical phenomenon. Set in the American Heartland during the Dust Bowl of the 1930's this is the story of one eleven year old boy's incredible experiences of the times as it ventures into the realm of fairy tales and tall tales. Best used after students have already had some exposure to information on the Dust Bowl.
The book explores the experience of an individual family through the eyes of an eleven year old boy as he tries to make sense of the dust storms and the lack of rain four years into the drought. More about this book including a longer review, discussion ideas, activities, related books and links.
Also see our Featured Subject, The Great Depression, a literature based unit with activities, related books and links.
And our Featured Book, Out of the Dust, with review, discussion ideas, activities and related books and links.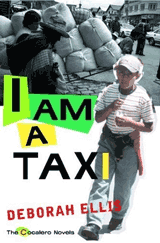 I Am a Taxi by Deborah Ellis. (2006, Groundwood/Anansi. ISBN 9780888997357. Order Info.) Novel. 205 pages. Gr 5-8.
Diego is twelve and lives with his mom and younger sister in a cell in a women's prison in Cochabamba, Bolivia. Diego and the other kids living in the prison are allowed to come and go. Diego runs errands for the women prisoners as a "taxi" to earn money for the family and goes to school on the outside.
Diego's father is in a prison nearby and Diego and his sister are free to visit him there. The family was traveling by bus when someone else's small packets of coca paste were found taped beneath their seats and so for the last four years they've been living in the prisons along with countless other families.
Diego's viewpoint is very matter-of-fact about their lives in the prisons and so the tone is not maudlin or pitiful though the details are stark. Diego's parents love him and his sister and are trying to raise them well. Still, Diego knows how bad they have it and longs to have them all back in their rural home. His parents, however, have thirteen more years to serve.
When Diego looses track of his sister when he's supposed to be watching her the women's prison's self-governing board takes away his taxi job. Desperate to help his mom pay for cell rent and food he takes a disastrous risk.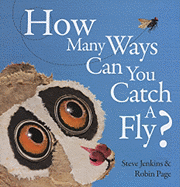 How Many Ways Can You Catch a Fly? by Robin Page. Illustrated by Steve Jenkins. (2008, Houghton. ISBN 9780618966349. Order Info.) Nonfiction Picture Book. 32 pages. Gr PreK-4.
This is another wonderful nonfiction picture book by this husband and wife team. The remarkable torn paper artwork begs to be examined closely and the science facts are obscure and fascinating. In response to the title question we see a spider cast a square web down over a fly, a trout jump out of the water, a bird snatch a fly in mid-flight and more. The book continues with more questions and a new group of animals illustrates various adaptations for each issue.
Polynesian megapodes bury their eggs at the rim of a volcano to keep them warm. Tailorbirds sew leaves into pouches to make a nest. Sea urchins sometimes grow too large to get out of the holes they have dug and must spend the rest of their lives there.
The ingenious way in which the torn and cut paper is used to create realistic animals will draw kids to the book. The science flows easily from the art. Use this book in an animal science unit. This is also a great book to use in the art curriculum to inspire paper collages and to show the possible range of effects, from fine cut details to soft fur. You can't spend much time with this book without trying to make the moist, shiny eyes of the loris on the cover.
There is additional information on each of the animals at the end of the book.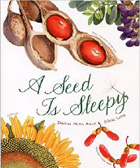 A Seed Is Sleepy by Dianna Hutts Aston. Illustrated by Sylvia Long. (2007, Chronicle. ISBN 9780811855204. Order Info.) Picture Book. 28 pages. Gr 2-8.
This is a gorgeous picture book from the same author/illustrator team that brought us An Egg Is Quiet. We start with a beautiful opening page spread showing sunflower seeds nestled within the center of a ripe sunflower head. Beautiful illustrations show seeds next being secretive (lying dormant for a season or for years), fruitful (encased in blueberries and papayas), naked (in pine cones), in many sizes (from dust to 60 pounds), adventurous (scattered by the wind or floating in water), inventive (sticking to sneakers), generous (providing food for the new sprout), ancient, thirsty, hungry, clever (photosynthesis) and finally awake.
This is a wonderfully indulgent treatment of seeds and their differing qualities as well as the life cycle of plants. It's a great book to use for opening a unit on plants or gardening. It's also wonderful for sorting activities with it's accurate illustrations of many types of plants and seeds.
The patterned text which uses successive adjectives to describe different qualities or stages in the lives of seeds is great for language arts activities about adjectives and description. Use it to spring board an activity brainstorming similar adjectives to describe something else (food, animals, months, etc.) or to model a descriptive poem structure students can use to write a descriptive poem of their own.
This is also a great book for connecting the art and science curriculum with its beautiful paintings reminiscent of nature journals kept by many amateur and professional naturalists. Wonderful for honing observation skills for drawing or science endeavors.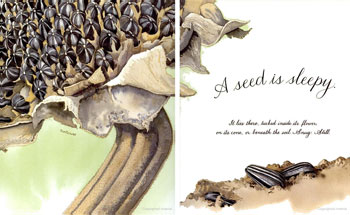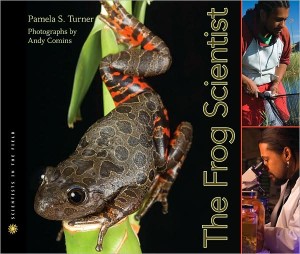 The Frog Scientist by Pamela S. Turner. Illustrated by Andy Comins. (2009, Houghton. ISBN 9780618717163. Order Info.) Nonfiction. 58 pages. Gr 4-9.
Tyrone Hayes was born in a coloreds-only hospital in South Carolina in 1967. Excelling in school he heard about Harvard on an episode of "Green Acres" on TV, applied and was accepted. He went on to become a university biologist and an expert on frogs. Specifically, he studies how pesticides affect frog populations and the implications for humans.
Amphibians around the world are experiencing a dramatic decline in numbers. This book details one of Hayes' experiments and his team of college students who carry it out with him. Hayes' passion and strong work ethic are contagious and a worthy model for readers wondering what might be possible for them. This is another great entry in the "Scientists in the Field" series.
Turner writes compelling text, a reflection of her own excitement in getting to know Hayes and his team and traipsing along with them to collect frogs and do their experiments. The photos by Comins are fascinating and essential to the experience of looking in on this amazing science in process.
Button Up!: Wrinkled Rhymes by Alice Schertle. Illustrated by Petra Mathers. (2008, Harcourt. ISBN 9780152050504. Order Info.) Picture Book Poetry. 40 pages. Gr PreK-3.
Individual clothes are the first person narrators in this collection of funny and charming poems. Titles include "Bob's Bicycle Helmet," "Jack's Soccer Jersey" and "Jamelia's Dress-up Clothes." Fifteen poems using varying rhythms and rhymes affectionately portray the things children wear with simple yet effective language.
Colorful illustrations are playful and a great match for the various pieces of clothing and the animals wearing them. Mathers has used watercolor to create vibrant color along with a lightness which works well with the tone of the poems.
This is a great book for modeling a poem from the viewpoint of an object. It is also a fun read-aloud and a good example of an unusual point-of-view in writing. If you're looking for a poem about shoelaces, boots, T-shirts, pajamas or hats look no further.
See also this collection of reviews of some of our favorite poetry books.

That's it for this issue.
Happy reading!
Rebecca Otis
You can read back issues of our newsletter here.
---
Advertisement:
---
---
Advertisement:
---
---
Advertisement:
---