Friends and Relations: Using Literature With Social Themes, K-2.
"An extremely useful book! After 15 years in the classroom, I discovered lots of new books plus some great activities and ideas for sparking lively discussions."
- Terry Kayne, 1st/2nd Grade Teacher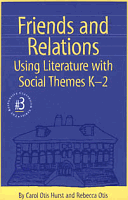 by Carol Hurst and Rebecca Otis (Northeast Foundation for Children, 1999. ISBN 1892989026. 108 pages. Paperback. $8.50)
You can order this book through Amazon.com or by calling Northeast Foundation for Children at 1-800-360-6332.
Discover 15 great books to read with kindergarten through second graders to explore social issues central to their lives. Thematic topics include the give and take of friendship; bullies, pests, and teasing; isolation and reaching out across generations; families, and working together.
This book features:
Comprehensive summaries of the books
A variety of group activities for increasing understanding
Questions and topics for prompting good discussions
Lists of thematically-related stories
Also included are general guidelines for using literature in the classroom, facilitating good book discussions, and choosing meaningful related activities.

Related Areas of Carol Hurst's Children's Literature Site
---
Advertisement:
---
---
Advertisement:
---
---
Advertisement:
---