A Ghost Story. By Carol Otis Hurst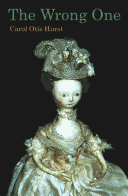 by Carol Otis Hurst. Published by Houghton Mifflin. Grades 3-6.
"Readers will enjoy this light story with its endearing family and eerie ghost" -- School Library Journal
"Hurst steadily builds suspense in this fast-paced and diverting novel. An appealing family portrait animated by ample doses of intrigue." -- Publishers Weekly
"The caring family chemistry feels real, especially Sookan's charming character. The light-handed spookiness, large print, and quick pace will satisfy younger readers." -- Kirkus
Times were tough for the Spencer family. After their father died, Kate, Jesse, and their adopted sister, Sookan, had to move with their mother from Brooklyn to a dilapidated farmhouse in western Massachusetts. Everyone except Sookan hated it; she hadn"t lived in Brooklyn long enough to miss the house there, but the rest of them hoped the move would be only temporary. But Mrs. Spencer"s business is slow to get off the ground, and the repairs to the house are expensive, so finances are tight. Suddenly they"re facing the possibility of losing their rundown farmhouse, too. Then Jesse discovers an old doll hidden up in the barn rafters. Despite Sookan"s cryptic protests that it"s the wrong one, they all hope its sale could bring in some much-needed cash. But when an eerie blue light appears, odd things begin to happen—things it touches become cold, TVs turn themselves on, objects show up in unusual places—even homework problems are solved! Could the blue light be a ghost? What other secrets does the old farmhouse hold? As Kate, Jesse, and Sookan try to solve these mysteries and adjust to their new life, they may just find the real treasure they are looking for—a place to call home.
To purchase with a credit card through paypal secure online ordering click on the "Add to Cart" button. To purchase by mailing us a check or with a purchase order email your request to rebecca@carolhurst.com. Include the number of copies you would like along with your name and address and we will send you an invoice.

---
Advertisement:
---
---
Advertisement:
---
---
Advertisement:
---