This article by Carol Otis Hurst first appeared in Teaching K-8 Magazine.


How time flies when we're having fun -- we are having fun, aren't we? Let's look at time and its accouterments this month. There are wonderful picture books as well as novels that focus on time and so this can be an area for all the classes, or for one special one.

Clocks
I'd start with a clock display. Hunt through attics and cellars, drawers and closets and assemble as many different kinds of timepieces as possible. Don't forget sundials, timers, stop-watches, wind-up and battery clocks and watches, alarm clocks, strikers, hour glasses, digital and non-digital time pieces, novelty watches and those that use roman numerals as well. Take the backs off some of them, or encourage children to do so in order to see how they work. If possible, let them dismantle, maybe even repair, some of the broken clocks with tiny screwdrivers. Encourage children to add to the collection.

Time Phrases
Put up some phrases about time on sentence strips:
Time flies
A stitch in time saves nine
Time on my hands
Wasting time
Marking time
Clock watchers
Illustrate one or two of them literally, if possible. Encourage children to add to that collection too. Add some jokes and riddles about time. They may be old and hairy for you, but for each kid they're new and hilarious at least once.

Time Travel Fantasy Books
On a nearby table, put some of the books that you think of when you think of time.
One of my all time favorite books centers around a wonderful clock that leads to secrets and discoveries. Tom's Midnight Garden by Philippa Pearce (HarperCollins, 1959 ISBN 0 397 30475 7). Tom learns about himself, about time, and how to reach across time. Pearce's time manipulation in this story is beautifully and intriguingly done.
While some kids are reading that one, others may prefer some other time travel fantasies: Lucy Boston's The Children of Green Knowe (Harcourt, 1989 ISBN 0-15-217151-7) features another old house. Tolly is sent to live with his great grandmother at Green Knowe. The picture over the fireplace in the mansion shows three children who grew up there in the 17th century. At first their lives are reached only through the stories about them that the old woman tells. Later, they come into the mansion as live people.
Eleanor Cameron's Court of the Stone Children (Puffin, 1990 ISBN 0-14-034289-3) is a well-written mystery in which Nina, a child of the present, becomes involved with the story of Dominique, a French woman of the nineteenth century. Together they clear up Dominique's father's charge of murder.
In Pam Conrad's Stonewords (Harper Collins, 1990 ISBN 0-06-021315-9) we meet Zoe who discovers another Zoe who once lived in the same house in 1870. Through a back staircase the modern Zoe travels back and forth in time. She develops a deep friendship with Zoe Louise who can also travel forward into Zoe's time.
For a spooky ghost story (and many ghost stories involve time as the spirit reaches out to the present), you can't beat Gilbert Cross' A Witch Across Time Atheneum, 1990 ISBN 0-689-31602-X. Hannah Kincaid is recuperating from anorexia at her great aunt's house on Martha's Vineyard. The house is 250 years old and full of history and a most persistent young ghost who persists in drawing Hannah into her misery. Hannah's hold on sanity is tenuous but she draws on strength she didn't know she had to cope with life and even with afterlife.
A time fantasy with a Black history twist is Belinda Hurmence's excellent A Girl Called Boy (Houghton, 1982 ISBN 0-395-31022-9. Blanche, a young African American girl, is unimpressed when she is given an African carving passed down from her great-great-great grandfather, but it takes her back to slavery days where she is mistaken for a runaway. The author uses slave narratives and plantation records for authenticity in this engrossing time novel. More about slavery.
Equally strong and about another terrifying period in history is Jane Yolen's The Devil's Arithmetic (Puffin, 1990 ISBN 0 14 034535 3) in which a twelve year old girl, Hannah, annoyed by her family's endless talking about the Holocaust is suddenly transported back to a Polish village in 1940.
A different war is the focus of Janet Lunn's The Root Cellar (Puffin, 1985 ISBN 0-14-031835-6). This time fantasy involves a modern day girl who becomes involves in the past where a Canadian girl must search for her brother, missing in the Civil War. It's an outstanding book with a tender and surprising twist at the end.
Equally sensitive is Julia Sauer's Fog Magic (Puffin, 1986 ISBN 0-14-032163-2 ) in which a girl of Nova Scotia reaches the fishing village of Blue Cove only through the fog. Unlike some time fantasies, this character can return home at will. It also becomes clear that her father had visited Blue Cove in his youth. The story is haunting and beautifully told.
Jill Paton Walsh gives us A Chance Child (Avon, 1980 ISBN 0-380-48561-3). More than most time fantasies, this one gets into the social and political issues of the past. Creep, an abused child of the present, follows a canal to the period of the Industrial Revolution in England where his abuse continues as he assumes the role of child laborer and gradually forgets the present. His half-brother, concerned about his disappearance, searches early 19th century documents to find evidence in the past of Creep's life and death.
A book which relates to the latter is David Wiseman's Jeremy Visick (Houghton, 1981 ISBN 0-395-30449-0). Like Chance Child, this book explores child labor practices of nineteenth century England. This time Matthew, a child researcher, visits a local cemetery and finds evidence of the death of a young boy in the mines of Cornwall. Determined to save the boy, Matthew becomes involved in the mine disaster. The careful research done by Matthew is what makes the fantasy believable and, for our purposes, very useful.

Time Fantasy Picture Books
There are a couple of picture book time fantasies which should be included: Crescent Dragonwagon's Home Place (Macmillan, 1990 ISBN 0-0-02-733190-3). In this book the time travel is done through the imagination of a girl and her parents as they find some daffodils in the woods and realize that a home once stood there. Another time fantasy picture book is The Backwards Watch by Eric Houghton (Orchard, 1992 ISBN 0 531 05968 5) in which a grandfather becomes a boy again when his granddaughter winds his watch backwards.

Bringing Readers Together
As always, when kids are reading different books which branch out from a genre such as time fantasy, you need something to bring them together for discussion. The method by which the time travel occurs often makes a good starting point for these books. What is the vehicle and why would the author have chosen such a vehicle for transportation backward and foreward in time? Also, the character who does the transporting is usually set up to be particularly vulnerable or needy. What events precipitated the voyage? Does the character have the ability to control it or does it happen without such control? What is the character supposed to be learning from the experience? In other words, what's the author's point here?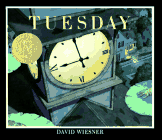 Other Time Books
We can stop there with time fantasies and have enough to sink our teeth into or we can move on from time fantasies to other books in which clocks and time play a pivotal role, we have John Bellairs' The House with a Clock in Its Walls (Dell, 1989 ISBN 0 440 43742 3) in which an orphan comes to live with his wizardly uncle and foils a plot to destroy the world.
Don't forget David Wiesner's Tuesday (Clarion, 1991 ISBN 0 395 55113 7). It can lead you in an entirely different direction or just deeper into time.

Nonfiction
For a work of non-fiction to bind these disparate pieces of literature together, try John and Mary Gribbon's wonderful new addition to the Eyewitness series published by Dorling and Kindersley: Time and Space (1994 ISBN 1 56458 619 7). With the series' usual fine graphics and clear text, the book covers such topics as the measurement of time and space, old beliefs about time, how clocks work and how they were evolved, and ends up with Einstein and relativity. The thought that time travel may well occur when we can enter a black hole and emerge from another fits well with our theme of the month. That's probably all we have time for.

Related Areas of Carol Hurst's Children's Literature Site
---
Advertisement:
---
---
Advertisement:
---
---
Advertisement:
---