The Great Depression and Children's Books

With all the current talk of hard times, this might be a good time to look at the Great Depression in literature. The study can stay within the language arts curriculum or serve as a means of crossing the curriculum into social studies, science, economics, and the arts.
Picture Books
* * * Stewart, Sarah The Gardener Illustrated by David Small
Farrar Straus, 1997 ISBN 0374325170. Order Info
Grades 2 - 8
This thoroughly delightful and touching book brings us a series of letters between young Lydia and her family. This is one of those books where the pictures add immeasurably to the plot and must be examined carefully to get the most out of the book. They begin with the end-papers, continue on through the title pages and then on to the text. Don't skip over any of them. The one spread that shows Lydia dwarfed by the interior of Penn Station is a story in itself. It's the time of the Great Depression and Lydia is sent away from the farm where she lives with her grandmother and parents to her uncle in New York City. She's to help him in the bakery. It's a hard time for all. Lydia misses her family and the gardens terribly. The city is bleak and her uncle even bleaker. Lydia is determined to get him to smile.
Her letters home reveal a bit of her plans and there are other hints along the way but the surprise she creates will bring a smile to the readers as well as to her uncle.
* * * MacLachlan, Patricia What You Know First Illustrated by Barry Moser
HarperCollins, 1995 ISBN 0060244135. Order Info
Grades 3 - 5
A little girl vows that she is not moving away even though her family is. She swears she'll stay on the prairie and live in the attic with the new folks or with her uncle who sings cowboy songs. Let them take the baby who won't know the difference and go. The spare, nearly poetic text evokes the feelings of loss and fear familiar to anybody who has had to move while staying within the context of a child's perspective. Moser's pictures are dark and powerful and it is through them alone that you realize the era in which the book is set.

* Turner, Ann Dust for Dinner Illustrated by Robert Barrett
HarperCollins, 1995 ISBN 0060233761. Order Info
Grades 3 - 6
This is a book with a limited vocabulary in which a family falls victim to the Dust Bowl. After losing their farm, they set out for California. The plot is sparse but the book makes a good one for less skillful readers.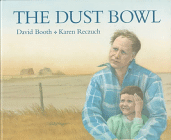 * * Booth, David The Dust Bowl Illustrated by Karen Reczuch
Kids Can Press, 1997 ISBN 1550742957. Order Info
Grades 2 - 6
It seems as if the drought has gone on forever and the boy's father is angry and discouraged. Grandfather, however, remembers a time when the drought and the dust were worse than this. He tells them about the Dust Bowl and the way many neighbors abandoned their farms then. His family decided to stick it out and they did -- through the drought, the cold and the grasshopper plague. The story makes the father decide that he'll stick these hard times out as well.
* Adler, David A. The Babe and I Illustrated by Terry Widener
Gulliver, 1999 ISBN 0152013784. Order Info
Grades 2 - 4
Set in the Bronx in 1932, this book gives us a young narrator who learns that his father is not going off to work each morning as he has pretended to do but instead is selling apples on the street. The boy then learns how to help out by selling newspapers near Yankee Stadium, yelling out the exploits of Babe Ruth in order to attract buyers. When the Babe himself buys a paper, our newspaper boy gets to watch a game.
Graphic Novels:
* * * Phelan, Matt. The Storm in the Barn.
Candlewick, 2009 ISBN 9780763636180. Order Info
Grades 3-10
Here's an outstanding example of a graphic novel which excels at illustrating an historical phenomenon. Set in the American Heartland during the Dust Bowl of the 1930's this is the story of one eleven year old boy's incredible experiences of the times even while it ventures into the realms of fairy tales and tall tales. Best used after students have already had some exposure to information on the Dust Bowl.
Novels:
* * Peck, Robert Newton Arly's Run
Walker, 1991 ISBN 0802781209. Order Info
Grades 4 - 8
Arly is saved from a sinking boat crossing Lake Okeechobbe during a storm by clinging to an oar. He makes it to shore only to be forced into migrant labor work. A drunk named Coo Coo becomes Arly's only human contact and the two look out for each other.
* * * Taylor, Mildred Roll of Thunder, Hear My Cry
Fogelman, 2001 ISBN 0803726473. Order Info
Grades 5 - 9
This Newbery Winner was the first book written in a series about the Logan family. In this volume, we focus on Cassie, one of four children living in Mississippi during the Depression. The Logan family owns some land and is respected by others in the African American community but the violence that surrounds them is an ever-present threat and Cassie's innocence is shattered when she makes her first visit to town.
* * * Koller, Jackie French Nothing to Fear
Gulliver, 1991 ISBN 0152575820. Order Info
Grades 4 - 7
The effects of the Great Depression on two families is the center of this novel. The Garveys and Rileys are Irish immigrants living in the same apartment building in NYC. Like many children of that era, Daniel Garvey must take on adult responsibilities, bringing in money for the family and caring for his sister, even begging for money as the Depression grows. His father leaves the family to find work. The Riley family is in even worse shape as their father turns to alcoholism.
* * * Hesse, Karen Out of the Dust
Scholastic, 1997 ISBN 0590360809. Order Info
Grades 5 - 9
This spare novel, a Newbery Award winner told in a sort of blank verse, tells of Billie Jo and her family on the plains of Oklahoma in 1934. Many of their neighbors have already left as the dust covers everything. When a fire kills her mother and wounds Billie Jo extensively, her father becomes unreachable. Billie Jo leaves at last only to be pulled back home. More Information including activities, related books and links.
* * * Curtis, Christopher Paul Bud, Not Buddy
Delacorte, 1999 ISBN 0385323069. Order Info
Grades 4 - 8
Bud holds all the remnants of his once loving home in a cardboard suitcase as he walks from Flint to Grand Rapids, Michigan in search of a man he believes to be his father. Many people lend a hand especially a labor union leader who finds Bud hiding at the side of the road. Bud's irrepressible good nature and innocence make him a breath of fresh air in the grim times of the Great Depression. More Information including activities, related books and links.
* * * Peck, Richard Year Down Yonder
Dial, 2000 ISBN 0803725183. Order Info
Grades 4 - 8
This sequel to Long Way from Chicago brings us back to Grandma Dowdel who rules the town in southern Illinois where she lives. Set in the late 1930s, hard times still prevail here. Joey, the older grandchild, is working in a CCC camp but Mary Alice has come to stay with her grandmother for a year while her parents give up their home. This is a hilarious Newbery Award winner.
Activities:
Make a chart showing how the characters in the books are affected by the Great Depression and how they do or do not cope with the changes.
How would any of the characters in those books thrive in the present day?
Carefully prepare an interview or series of interviews with someone who has lived through the Great Depression. Make sure that your comments and questions will be apt to get information you want. You can find some suggested questions for your survey at:
http://www.askeric.org/Virtual/Lessons/crossroads/sec5/Unit_10/Unit_10L1R2.html
Prepare a meal such as might be served during those hard times. You can get some recipes at:
http://www.geocities.com/NapaValley/1918/great.html?
Find out about hobos -- who they were, why they traveled.
Create a bare minimum budget for your household. What do you absolutely have to have as income each month to meet the bare necessities?
Visit http://www.sos.state.mi.us/history/museum/kidstuff/depressn/costlist.html to get an idea of relative prices for things during the Depression as compared to now as well as the comparative wages.
Look around your classroom and homes to make lists of things that wouldn't be there if this were the time period of the Great Depression. What changes would the absence of those things make in your life? Would anything change for the better for you?
Find out what help is available in your area for people going through job loss, home loss, or similar problems.
Find out about the WPA and the CCC organizations, designed to provide work during the Depression. Where did the money come to pay them? Are any of their projects still being used in your community?
What was done to help support artists during the Depression? What is being done to support them now? Look at your school system's budget for the last few years. What is happening to the arts programs in your system as a result? Should the arts be supported in hard times? Why or why not?
Various mottos and slogans were used in that time to motivate people. List some of them and compare them to the way various slogans of today make you feel.
Related Areas of Carol Hurst's Children's Literature Site:
---
Advertisement:
---
---
Advertisement:
---
---
Advertisement:
---