Actual Size


by Steve Jenkins.

Nonfiction Picture Book. 28 pages. Grades PreK-3.
Find this book: Amazon

Review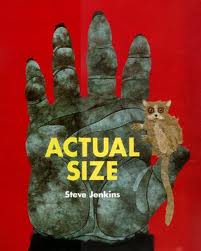 This outstanding nonfiction title is another of many wonderful books by Steve Jenkins. His torn paper illustrations created with handmade papers are exquisite and very engaging. In this title animals or parts of animals are shown life size. The eye of a giant squid fills a page and, believe it or not, is beautifully rendered with textured papers.
There are 18 animals (or parts of animals) here. The head of a 23 foot crocodile, the one ounce mouse lemur and the mouse eating Goliath frog. From the gargantuan to the miniscule they will all amaze.
What a fun way to start the selection process for kids needing to pick out an animal to research. This is also perfectly suited for the math curriculum with its many measurement opportunities. Be sure to add this to your offerings.
Other favorites by Steve Jenkins include, Biggest, Strongest, Fastest, Hottest Coldest Highest Deepest, What Do You Do When Something Wants To Eat You, How Many Ways Can You Catch a Fly, and Never Smile at a Monkey.
(Continued Below)
---
Advertisement:
---
(Continued Below)
---
Advertisement:
---

Related Books
How Many Ways Can You Catch a Fly? by Robin Page. Illustrated by Steve Jenkins. (2008, Houghton. ISBN 9780618966349. Order Info.) Nonfiction Picture Book. 32 pages. Gr PreK-4.
This is another wonderful nonfiction picture book by this husband and wife team. The remarkable torn paper artwork begs to be examined closely and the science facts are obscure and fascinating. In response to the title question we see a spider cast a square web down over a fly, a trout jump out of the water and more. The book continues with more questions and a new group of animals illustrates various adaptations for each issue. Read More.
(Continued Below)
---
Advertisement:
---

Related Areas Within Carol Hurst's Children's Literature Web Site