Amelia Bedelia's Family Album


by Peggy Parish. Illustrated by Lynn Sweat.

Picture Book. 48 pages. Grades K-3.
Find this book: Amazon

Review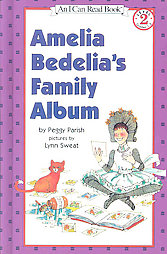 Amelia Bedelia's been around a long time. Even the characters in this, the last book written by Peggy Parish in the series, are aware of her longevity. In fact, they want to have a party with all of her relatives invited to celebrate it. So Amelia gets out her family album. This is as full of word play as any of the books but, with the theme of occupations for her relatives, the jokes seem even stronger than usual. As on many family trees, there are a few lemons on Amelia Bedelia's. One of her relatives takes pictures, she says. "'What kind of pictures does he take?' asked Mr. Rogers. 'Any kind,' said Amelia Bedelia. 'You really have to watch him. He will take every picture in the house.'" Her bookkeeping relative is not particularly good at numbers, she just keeps books and never returns them. Her Cousin Chester is a printer. They never could teach him how to write.

About the Author
Parish, born in South Carolina in 1927, is the author of close to fifty books for beginning readers. She died in 1988. Parish is probably best known for her humorous "Amelia Bedelia" books about a literal-minded housekeeper. These include Teach Us, Amelia Bedelia (1977), Amelia Bedelia Helps Out (1979) and Amelia Bedelia's Family Album (1988).
After college Parish taught third grade in Kentucky, Oklahoma, and finally in New York City. She came to appreciate what new readers really want: "I don't try to teach anything in my stories--I write just for fun."
Parish wrote three "Granny Guntry" books about an independent pioneer woman with a gun that cannot shoot. She has another amusing character, Miss Molly, who is so forgetful she forgets her own birthday in Be Ready at Eight (1979). Another humorous character is Aunt Emma. In The Cat's Burglar (1983), although the neighbors tell her she has too many cats, when a burglar intrudes, the cats save the day.
Parish also wrote six mystery stories, among them The Key to the Treasure (1966), for slightly older readers to match wits with Jed, Liza, and Bill in mysteries that are family-related.
After Peggy Parish's death, her nephew, Herman Parish, took up the Amelia Bedelia series starting with Good Driving, Amelia Bedelia.
(Continued Below)
---
Advertisement:
---
(Continued Below)
---
Advertisement:
---

Related Books
Good Driving, Amelia Bedelia by Herman Parish. Illustrated by Lynn Sweat. (1995, Greenwillow. ISBN 9780688133580. Order Info.) Easy Reader. 40 pages. Gr 1-3.
Herman Parish, a nephew of Peggy's, has taken up the pen and Lynn Sweat has illustrated it as usual in Good Driving, Amelia Bedelia. The change of authors is barely perceptible and the humor bubbles as strongly as ever when Amelia takes to the road. Read More.

Ling and Ting: Not Exactly the Same! by Grace Lin. (2010, Little, Brown. ISBN 9780316024525. Order Info.) Easy Reader. 48 pages. Gr PreK-3.
Here's another charming Easy Reader. Ling and Ting are Chinese American twins, but they are not exactly the same. For one thing there is the jagged cut in Ling's haircut due to a sneeze while her bangs were being trimmed. Then, of course, there are the differences in their personalities and behavior. This beautifully done Easy Reader explores the similarities and differences while affirming their affection for each other. Small vignettes break the book up into accessible chunks each with a dose of gentle humor at the end. Grace Lin won a 2011 Giesel Honor Book award for this strong entry in the beginning reader genre.

Mercy Watson Thinks Like a Pig by Kate DiCamillo. Illustrated by Chris Van Dusen. (2008, Candlewick. ISBN 9780763632656. Order Info.) Easy Reader. 70 pages. Gr K-4.
Here's another humorous easy reader. The text is rich with judiciously sprinkled juicy words like "unmentionable" and "eclaires" and "gracious". In this installment Mercy's neighbors--the elderly women, named Eugenia and Baby, have decided to beautify their yard by planting pansies all around, which Mercy finds delicious. Read More.
(Continued Below)
---
Advertisement:
---

Related Areas Within Carol Hurst's Children's Literature Web Site