And So They Build


by Bert Kitchen.

Nonfiction Picture Book. 32 pages. Grades 1-4.
Find this book: Amazon

Review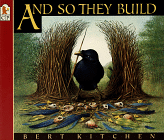 This book presents us with two simultaneous levels of reading about twelve animal home and nest builders. One level is a simple, large print text that states what is going on in the detailed illustrations. Smaller print on the page explains in more detail about that particular dwelling and its builder.
The illustrations of watercolor and gouache are very detailed and show the constructions within a natural landscape. The homes are fascinating: some are umbrella shaped; some tastefully decorated, some continually grow and others are self-heating or air conditioned. The text tells us not only how they are built but how their structure serves the builder.
Kitchen makes no generalizations from his diverse homes and their builders. That job is left for the reader.
(Continued Below)
---
Advertisement:
---
(Continued Below)
---
Advertisement:
---

Related Books
Cactus Hotel by Brenda Guiberson. (1991, Holt. ISBN 0805029605. Order Info.) Picture Book. 32 pages. Gr PreK-3.
A saguaro cactus is an ecosystem within the desert ecosystem. This book shows how each thing that happens to the cactus starts a chain of events affecting many animals and plants in and around it.

Castles, Caves and Honeycombs by Linda Ashman. Illustrated by Lauren Stringer. (2001, Harcourt. ISBN 9780152022112. Order Info.) Nonfiction Picture Book. 32 pages. Gr PreK-2.
Lilting, rhyming phrases and cozy, rounded illustrations expose young readers to a variety of animal homes. It's an excellent read aloud book.

Grades PreK - 3
Building Our House by Jonathan Bean. Picture Book. 48 pages.
Find this book: Local Bookstore, Amazon, B&N

This is an affectionate picture book portrayal of a family building their own home from scratch. Everyone helps over the course of a year and a half while they live on site and the small family grows from two to three children. There are lots of timber frame building details while the focus stays on the warm and loving family creating a home together. A beautiful example of the emotional and material power of teamwork. This book won the Boston Globe Horn Book Picture Book Award for 2013.
(Continued Below)
---
Advertisement:
---

Related Areas Within Carol Hurst's Children's Literature Web Site