The Artist Who Painted a Blue Horse


by Eric Carle.

Picture Book. 32 pages. Grades PreK-9.
Find this book: Amazon

Review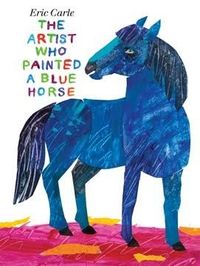 In his first book in four years Eric Carle honors one of the great artists who inspired his singular style. The title gives a hint as to the identity of the boy narrator of the story. However, the story itself is a simple, almost wordless, tale of a child painting--a blue horse, a red alligator, a pink rabbit, a yellow cow and more. Our narrator closes with, "I am a good artist."
It is only after this that Carle includes a reproduction of "Blue Horse" by Franz Marc along with a short biography.
An expressionist, painting in Nazi Germany, his works were banned as part of "degenerate" modern art. Carle, who grew up in Germany, was secretly shown some of Marc's paintings and was deeply affected by them.
Without the background information this is an exuberant romp through colors and animals and is infused with the joy of creative freedom. Perfect for young children and their attendant adults needing to break free from staying within the lines and from struggling to replicate reality. Here is their invitation to a free expression of something inside themselves.
For older students this is a great piece of art history in the case of both Marc and Carle's lives as artists. Great for stimulating discussions about expression, freedom, censorship and repression.
(Continued Below)
---
Advertisement:
---
(Continued Below)
---
Advertisement:
---

Related Books
Grades 2 - 9
The Art of Eric Carle by Eric Carle. Nonfiction. 128 pages.
Find this book: Local Bookstore, Amazon, B&N

This is a wonderful source book for information about Eric Carle and his work. Carle includes a delightful autobiography amply illustrated with photographs and sketches, but there is much more in the book. An editor relates her experiences with Carle. There's a section about the way he creates his work and writings by Carle and some of his colleagues. Best of all, the book is a compendium of his artwork.

Grades K - 3
Art Lesson by Tomie dePaola. Picture Book. 32 pages.
Find this book: Local Bookstore, Amazon, B&N

Tommy loves art and has been encouraged to imagine and create since he was tiny. As school time approaches, he is thrilled because he's been told that the school has an art teacher and Tommy wants to know more and do more with art. He is frustrated however to find that he must only use certain colors and must copy the teacher's directions.

Grades PreK - 1
The Very Hungry Caterpillar by Eric Carle. Picture Book. 32 pages.
Find this book: Local Bookstore, Amazon, B&N

In this classic picture book, a caterpillar hatches, eats, spins a cocoon, and emerges as a butterfly. Although the food he eats is not part of a real caterpillar's diet and the butterfly that emerges is not identifiable, the concept of metamorphosis the book portrays is a nice introduction to that life cycle. Read More.
(Continued Below)
---
Advertisement:
---

Related Areas Within Carol Hurst's Children's Literature Web Site