Autumn Street


by Lois Lowry.

Novel. 188 pages. Grades 4-8.
Find this book: Amazon

Review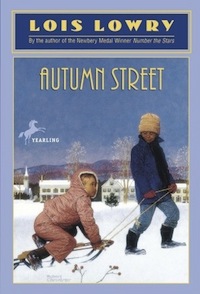 Elizabeth has come with her sister and pregnant mother to live with her grandparents while her father is away during World War II. The grandparents are people of wealth and respect in the community. Grandmother is severe and unyielding. Elizabeth's mother is kind and loving but it is Tatie, the black maid of the household, who is Elizabeth's rock during this time and Tatie's grandson, Charles, becomes Elizabeth's best friend.
It is Charles with whom she shares her fears and excitements. Together Charles and Elizabeth, who is coming down with pneumonia, go off to the forbidden and scary woods at the end of town which they believe is inhabited by giant turtles. Charles refuses to leave the woods with Elizabeth and she, overwhelmed by her sickness, abandons him.
This book has a beautiful prologue which sets the tone for the book while foreshadowing its action. Also, the character of the grandmother in Autumn Street, that stern and unbending woman of decorum, provides one of the most touching scenes in Lowry's work as she attends the funeral of a child in an African American church.
This book can be used in conjunction with other books about WWII to find out what life was like in the United States while the war was going on. The War in this novel is very much in the background, but the war that's fought in the novel is a personal one. Their next door neighbors are viewed with suspicion because of their German heritage. There is racial prejudice and even murder and its attendant guilt and suspicion in this taut, memorable book.
(Continued Below)
---
Advertisement:
---
(Continued Below)
---
Advertisement:
---

Related Books
Grades 4 - 7
On The Wings of Heroes by Richard Peck. Novel. 160 pages.
Find this book: Local Bookstore, Amazon, B&N

Set in 1940's Illinois this is a home front look at World War II through the eyes of Davy Bowman. The collecting of scrap metal and other efforts to support the war are everywhere but when Davy's brother is sent to serve in Europe the war hits home in a different way. This is a coming-of-age tale which vividly evokes another era. As usual there are the eccentrics and the humor that is classic Richard Peck.
(Continued Below)
---
Advertisement:
---

Related Areas Within Carol Hurst's Children's Literature Web Site
Lois Lowry: Author Study for the Classroom
Biographical information, about her work and reviews of our favorite books.

Families through Kids' Books:
Featured Subject article with curriculum comments, discussion and research topics and a large selection of our favorite books for the classroom.

World War II through Kids' Books: Featured Subject
Classroom activity ideas and a long annotated list of some of our favorite books.