The Barn


by Avi.

Novel. 128 pages. Grades 4-9.
Find this book: Amazon

Review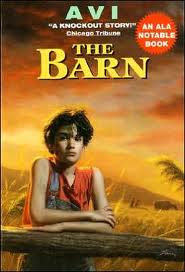 In this brief novel set in 1855, Ben's father has been felled by palsey--what we call today a stroke. Ben, nine years old and the youngest child, has been called home to Oregon Territory from the boarding school he's been attending. More gifted intellectually than his siblings and, perhaps, with a stronger sense of family, Ben quickly becomes the leader, dividing the labor as efficiently as possible. This leaves him with the care of his father.
First finding a way to communicate at least minimally, and desperately needing to reestablish contact with the dying man, Ben decides that, if they build a barn his father had planned, the man will recover. His sister, Nettie, anxious to marry, delays her plans to help with the barn and the three set about the nearly impossible task. The barn becomes a symbol for achievement, acceptance and love. It is also, quite obviously, the object of the boy's obsession which he questions himself, but only after the barn is completed.
Detailed descriptions of barn-building take up much of the room on these few pages, but it is, after all, the focus of the book and Avi cleverly makes us care about it as deeply as Ben does, even while questioning his logic. The book, in spite of that amount of detail, is spare and can be read within one sitting. It can be looked at as the historical piece it is or it can become a starting place for a look at symbols in books or in our own lives. Passion and obsession are also obvious directions that can be followed as a result of reading the book.
(Continued Below)
---
Advertisement:
---
(Continued Below)
---
Advertisement:
---

Related Books
Grades PreK - 3
Building Our House by Jonathan Bean. Picture Book. 48 pages.
Find this book: Local Bookstore, Amazon, B&N

This is an affectionate picture book portrayal of a family building their own home from scratch. Everyone helps over the course of a year and a half while they live on site and the small family grows from two to three children. There are lots of timber frame building details while the focus stays on the warm and loving family creating a home together. A beautiful example of the emotional and material power of teamwork. This book won the Boston Globe Horn Book Picture Book Award for 2013.
(Continued Below)
---
Advertisement:
---

Related Areas Within Carol Hurst's Children's Literature Web Site

Related Areas Elsewhere on the Internet
Following these links will take you off our web site. You will have to use your back button to return or, bookmark our site now so you can return anytime.