The Bear Ate Your Sandwich


by Julia Sarcone-Roach.

Picture Book. 40 pages. Grades PreK-2.
Find this book: Amazon

Review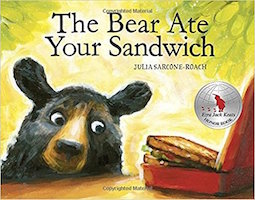 This is a wonderful example of an unreliable narrator. The tale opens with, "By now I think you know what happened to your sandwich. But you may not know how it happened. So let me tell you." Our unseen narrator proceeds to tell us about a bear who begins his adventure as a stowaway on a farm truck of berries headed for the city by crossing the Golden Gate Bridge.
We see the city through the bear's eyes, with the skyscraper "cliffs" and the wet concrete "mud." His explorations take him to "your beautiful and delicious sandwich. All alone." on a park bench.
The final pages give us the first glimpse of our narrator. "So. That's what happened to your sandwich. The bear ate it." says the dog with a scrap of lettuce at his or her feet.
The playful pictures are as much a part of the story as the text. Both are really well done, full of the craziness of a tall tale fib.
This book is great fun for the preschool through second grade crowd and a delightful book to use with older students to discuss the literary device of an unreliable narrator. It's also good for any age working with inferences.
(Continued Below)
---
Advertisement:
---
(Continued Below)
---
Advertisement:
---
(Continued Below)
---
Advertisement:
---

Related Areas Within Carol Hurst's Children's Literature Web Site