Because of Winn Dixie


by Kate DiCamillo.

Novel. 288 pages. Grades 3-7.
Find this book: Amazon

Review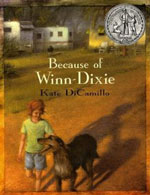 Heart-warming, touching, tender are all apt adjectives for this brief novel. Winn Dixie is a stray dog that our heroine, India Opal, finds in the midst of chaos at the Winn Dixie grocery store. Not since Shiloh have we had a literary dog so full of life and character.
Newly moved to this area of Florida with her preacher father, India Opal feels lonely and friendless. She pines for a mother she never knew who left when she was three. She knows that this unruly mutt of a dog is not going to be easy for her father to welcome into their trailer park home but the attachment to the dog is instant and mutual. To her delight, her usually preoccupied father responds to the dog and makes Winn Dixie part of his household and even part of his congregation at the Open Arms Baptist Church.
Through the dog, at first, and later through her own curiosity and friendly nature, India Opal finds friends in the community and discovers that each new friend is lonely in his or her own way. There's a moral here and the author handles it well through characters that spring to life and make you want to become part of that circle of friends in rural Florida.
Because of Winn Dixie has literary friends as well: Ruth White's Belle Prater's Boy (Yearling, 1998 ISBN 9780440413721.) has the same qualities of innocence in the protagonist character. Trudy Krisher's Spite Fences (Laurel Leaf, 1996 ISBN 9780440220169.) has that same sense of a community of delightful misfits. Branch out or stay with the first Because of Winn Dixie. Either way it's a joy.
(Continued Below)
---
Advertisement:
---
(Continued Below)
---
Advertisement:
---

Related Books
The Tiger Rising by Kate DiCamillo. (2001, Candlewick. ISBN 9780763609115. Order Info.) Novel. 128 pages. Gr 4-7.
This is the story of a miserable boy, Rob, and an equally miserable girl, Sistine. Rob grieves for his recently deceased mother, but he must do so without tears for his father has forbidden those tears. Sistine is miserable because of her family's divorce and her relocation here in this awful town. When Rob discovers a caged tiger, he shares the secret with Sistine who is determined to free the tiger. This runner up for the National Book Award is brilliantly done. It's a tale of loss and redemption, of humans made whole by each other. Read More.
(Continued Below)
---
Advertisement:
---

Related Areas Within Carol Hurst's Children's Literature Web Site