The Bird King: An Artist's Notebook


by Shaun Tan.

Nonfiction. 128 pages. Grades 3-9.
Find this book: Amazon

Review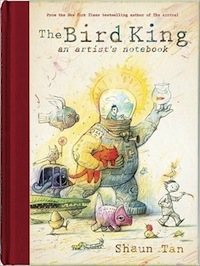 The unassuming idea of publishing some of Shaun Tan's sketches and drawings turns out to be a gold mine. Looking through these 128 pages offers us a wonderful glimpse into the workings of Tan's genius. Again and again we see how he is fascinated with the combination of organic and mechanical. We see amazing ideas jotted out, played with, and elaborated.
Tan opens the book with a wonderful introduction about creating art in general and his process in particular. It's well written and borrows metaphors from artist Paul Klee of "taking a line for a walk" and of the artist as a tree drawing from the good soil of observations etc. to produce leaves and fruit. Here Tan shows us the good soil that resides in his sketches and experiments.
Surprisingly this book is great for just browsing and for appreciating the world of imagination. Take a look, you will be drawn in.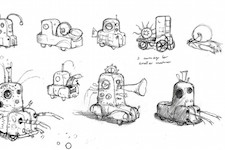 It is a wonderful addition to any unit on art or creativity because his work is so singular and the introduction so inspiring and, of course, a must for any author/illustrator study of Tan. Grab this book to give to budding artists, but also to students who think they can't draw or who have trouble deciding what to draw. Tan's work breaks open our assumptions about what drawing is and where it can take us.
(Continued Below)
---
Advertisement:
---
(Continued Below)
---
Advertisement:
---
(Continued Below)
---
Advertisement:
---

Related Areas Within Carol Hurst's Children's Literature Web Site