Bobby Baseball


by Robert Kimmel Smith.

Novel. 176 pages. Grades 3-6.
Find this book: Amazon

Review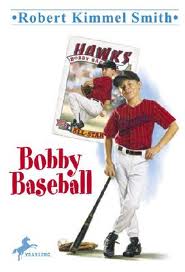 Bobby Ellis calls himself Bobby Baseball and the name is not as crazy as some of his friends think. Bobby dreams, writes and plays baseball. His father made it to professional baseball although he never got to the major leagues, but Bobby has his own path figured out. He will become a great little league pitcher and then go right to the semi-pros and on, not only the major leagues, but to the Baseball Hall of Fame. He secures a place on the team his father coaches in spite of his father's feeling that he'd be better off on another team. Bobby is sure he'll be an outstanding pitcher and refuses all advice, especially his father's, to try for a second base position. He becomes the pitcher and that's the beginning of the end of all his dreams.
The writing is not simplistic and the solutions are not trite. The supporting cast rings true and their relationships with Bobby vary and are consistent with their personalities. Bobby's family is also fully dimensioned. His mother prefers Scrabble to baseball but takes a mother's interest in Bobby's problems; his father is torn behind being a successful coach of his young team and his role as Bobby's father. Sammy, Bobby's older brother, has already been there, done that and Grandfather adds humor as well as wisdom. Although the story is told in the third person, it's from Bobby's point of view and entries from his journal tie the book together.
The book is replete with baseball trivia and stories that should entice some of the "sports only" readers, but the plot is so believable and the theme stretches so far beyond the book that even non-sports readers might be interested in the book. It's not so much the end of the fantasy that Bobby faces, but the realization that discipline and control as well as talent are necessary for some dreams to come true.
(Continued Below)
---
Advertisement:
---
(Continued Below)
---
Advertisement:
---
(Continued Below)
---
Advertisement:
---

Related Areas Within Carol Hurst's Children's Literature Web Site