Brush of the Gods


by Lenore Look. Illustrated by Meilo So.

Picture Book. 40 pages. Grades K-3.
Find this book: Amazon

Review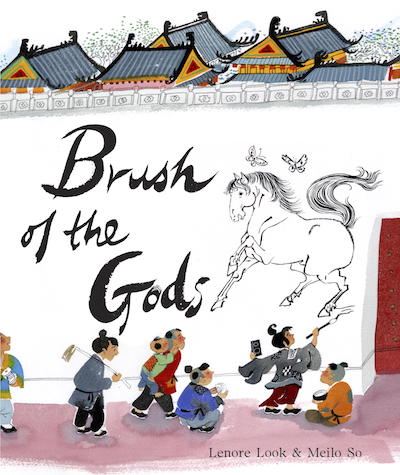 This is the fictionalized story of Wu Daozi (689-759), who was one of the great masters in eighth century ancient China during the T'ang Dynasty. He introduced movement into the previously staid Chinese painting style.
The book opens in Wu Daozi's calligraphy class where his brush insists on creating animals instead of words. His paintings are so lifelike that many people come to see his paintings.
When his paintings begin to come to life and fly or gallop away people loose interest in his, now missing, work. The poor children, however, see his works come to life and tell each other stories of his creatures, following him everywhere they forget their hunger in the awe of his art.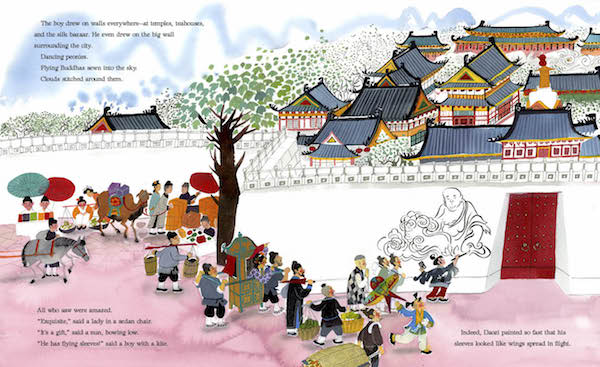 Much later he is rediscovered and his paintings are so loved that he is asked to paint a mural for the emperor.
More playful than realistic picture book biographies, this story's fantasy elements are based on the legend that, at the end of his life, he simply walked into the mural he had created for the emperor.
The illustrations are filled with the inky fluidity of Chinese calligraphy brush strokes that have loosed their bonds and are the pages are filled with historic details.
Beautifully written and gloriously illustrated, this is a fanciful and rewarding trip to ancient China.
(Continued Below)
---
Advertisement:
---
(Continued Below)
---
Advertisement:
---
(Continued Below)
---
Advertisement:
---

Related Areas Within Carol Hurst's Children's Literature Web Site