Cat Up a Tree


by John Hassett and Ann Hassett. (Houghton Mifflin, 1998. ISBN 0395884152. Order Info.) Picture Book. 32 pages. Grades PreK-2.



Review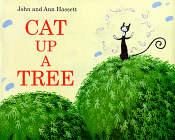 Here's a counting book that brings in the community, a whole lot of cats and handles it all with a zany sense of humor. Nana Quimby sees a cat up a tree. She calls the fire department to come and get it down. The person at the firehouse says that they don't do that anymore -- she should call back if the cat starts playing with matches. Now there are five cats in the tree. Nana Quimby calls the police. They won't help unless the cats rob a bank. The cats increase and so do the phone calls. No one will help. In frustration, Nana throws the phone out the window. It lands in the tree and the forty cats cross the wire to her house. The spindly and angular art adds to the comedy.

Related Books
Catwings by Ursula Le Guin. Illustrated by S. D. Schindler. (1992, Scholastic. ISBN 9780613708425. Order Info.) Chapter Book. 48 pages. Gr 1-5.
When her kittens are born, a mother cat is surprised to see that they have wings. Soon, she realizes that the power to fly will allow them to escape the slums in which they live to find a better life. Flight brings them to the woods which have their own dangers and finally to some children who will love and care for them. Read our Featured Book Teachers Guide.
---
Advertisement:
---
---
Advertisement:
---
---
Advertisement:
---