Children of Christmas


by Rylant, Cynthia. Illustrated by S. D. Schindler. (Orchard, 1987 ISBN 0531070425. Paperback.) Novel. Grades 2+.



Review
These six short stories are almost vignettes and are not what is usually thought of as Christmas stories: no Santa Claus's, no manger scenes. Told in the present tense, each story becomes a glimpse of other, often lonely, lives at holiday time. These protagonists are, for the most part, outsiders looking in at more traditional families and their celebrations. One story, for instance, is of Mae, a homeless woman, who walks with her dogs through the pre-Christmas bustle of shoppers, unseen by most. She is sick and can't remember where the sick place is that they once took her to. She almost literally falls into the closed library and there she finds food and solace but not through the direct action of any person but herself. The total effect of the book is not sadness. The reader ends up with a warm and very Christmas-like desire to help alleviate somebody's loneliness soon.
Readers might like to look at some of Rylant's even shorter vignettes in her book Waiting to Waltz in which events and people in the small town of Beaver, West Virginia are sketched with few words and, for the most part, great impact.

Related Books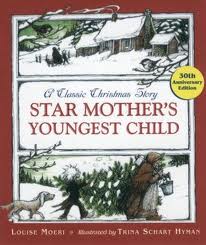 Star Mother's Youngest Child by Louise Moeri. Illustrated by Hyman, Trina Schart. (2005, Sandpiper. ISBN 9780618615094. Order Info.) Picture Book. 48 pages. Gr 2-6.
A lonely old woman shouts her loneliness at the Christmas sky on Christmas Eve. In the sky a young star child asks his mother for a chance to celebrate Christmas on earth. When the child shows up at her door, the old woman reacts with selfishness and anger until the child's warmth changes everything.

Related Areas of Carol Hurst's Children's Literature Site
---
Advertisement:
---
---
Advertisement:
---
---
Advertisement:
---