Doll Bones


by Holly Black. Illustrated by Eliza Wheeler.

Novel. 256 pages. Grades 4-8.
Find this book: Amazon

Review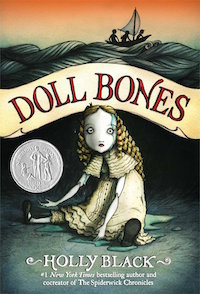 This Newbery Honor winning ghost story is great for reluctant readers as well as more enthusiastic readers.
Three early adolescents, Zach, Alice, and Poppy, have been playing an elaborate game for years using action figures and dolls. Their fantasy world includes pirates and mermaids and The Queen, played by an antique and particularly creepy-looking doll. Zach is getting harassed for still playing with girls.
When Poppy says that the ghost of a young girl told her that the bone china doll is made from her bones and contains her ashes, the three friends embark on a journey from Pennsylvania to Ohio to bury the remains at the girl's grave. If they don't, the ghost will curse them.
The book is a little scary and filled with adolescent angst. The line-drawings scattered throughout the book take the edge off the frightening episodes and lighten the general anxiety. Most kids in fourth grade and up are old enough to handle it.
The excellent writing takes what could have been an all-too-familiar premise and turns it into something extraordinary. Themes about the power of story and the conflicting pulls of growing up enrich this contemporary quest. The teetering anxiety that comes with being at the leading edge of adulthood is palpable as these three navigate the tricky changes around play and relationships.
The characters are drawn with disarming honesty, especially Zach. Preteens and young teens will recognize themselves and their classmates in the emotions and intermittent awkwardness.
(Continued Below)
---
Advertisement:
---
(Continued Below)
---
Advertisement:
---

Related Books
Grades 6 - 10
The Graveyard Book by Neil Gaiman. Illustrated by Dave McKean. Novel. 312 pages.
Find this book: Amazon

In The Graveyard Book Neil Gaiman, author of the New York Times bestseller Coraline gives us a playful romp through an alternative world of ghosts and ghouls, while slowly unfolding the mystery of who is after Nobody. It won him the 2009 Newbery Award. Read More.

Grades 4 - 8
The Ghost Belonged to Me by Richard Peck. Novel. 146 pages.
Find this book: Amazon

It's 1913 in small town Illinois, and Alexander has been told by a schoolmate, Blossom Culp, that he has second sight. It isn't long before events prove her right. He sees and eventually talks to the ghost of a young Creole girl from the Civil War era who is haunting the barn. The book is not difficult to read or understand. It should be well within the reach of most fifth graders and could go up or down. It makes a good read aloud with some great slapstick comedy and not a little historical information. Read More in our Featured Book Teachers Guide with discussion questions, extension activities, related books and links.
---
Advertisement:
---