The Doorbell Rang


by Pat Hutchins. (Mulberry Books, 1986 ISBN 0688092349. Paperback, Hardcover..) Picture Book. 32 pages. Grades PreK+.
This book was reviewed by Carol Otis Hurst in Teaching K-8 Magazine.


Review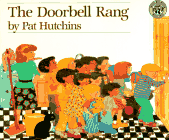 Ma has made some cookies for her two children and is now trying to wash the kitchen floor. There are twelve cookies -- six apiece-- and the children think they look and smell as good as Grandma's, but "no one makes cookies like Grandma". That phrase is repeated throughout the book, as is "the doorbell rang" as more and more children enter to share the cookies (tracking up the floor as they come.) Eventually the children only have one cookie apiece and the doorbell rings yet again. However, this time it's Grandma with a big tray of cookies, which is perfect because no one makes cookies like Grandma.
This is one of those picture books that practically begs to be included in the math program. We've got pattern, problem solving, computation and data gathering for starters. The book is full of visual and verbal patterns. The children seem well conditioned to share their bounty so the computing of how many cookies apiece changes as the other children enter the picture and that, of course, involves problem solving. Since the number of cookies and the number of children is left to the reader, data gathering becomes necessary.
Much of the action in the illustrations goes beyond that mentioned in the text -- Ma's attempt to keep the floor clean, for instance. In fact, readers may notice that the increasing dismay on the faces of both Ma and her children is caused by two different factors: the cookies and the kitchen floor.

Related Areas of Carol Hurst's Children's Literature Site
---
Advertisement:
---
---
Advertisement:
---
---
Advertisement:
---