Draw!


by Raul Colon.

Picture Book. 40 pages. Grades PreK-3.
Find this book: Amazon

Teacher's Guide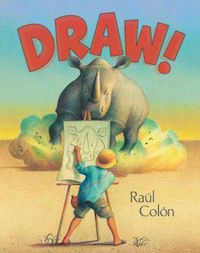 In this wordless book, a boy is stuck in bed with asthma. He has a book about Africa and a sketchbook. We follow along as he imagines that he is in Africa drawing the animals.
Starting with a sedate artist-at-his-easel pose in front of an elephant, the illustrations become less and less predictable as he rides on the elephant to find a herd of zebras to draw, poses for a portrait drawn by a baboon, and narrowly escapes a charging rhinoceros. As the day ends the boy sadly leaves the elephant. In the final spread we see the boy, back at school, sharing his now fully painted drawings.
This book is based on Colón's childhood when he was often confined to bed, sometimes for weeks, with asthma. He has said, "We didn't have an X-box, so I drew?
The illustrations have a slight hint of sepia which captures both the looking back of memory and the dusty African plain. Overall, however, Colón uses colored pencils on colored paper to saturate the pages with color during the scenes in his imagination in contrast to the more restrained use of color in the opening bedroom and closing classroom scenes. The colored pencil is then scratched off in places to add texture and motion.
This is a wonderful, inspired work on the power of the imagination and art to engage us and transport us.
(Continued Below)
---
Advertisement:
---

Things to Talk About and Notice
Observation, Inference: Look carefully at the opening spread of the boy at home in bed. Ask students to name objects they notice as you write them on the board. Are there any items here that tell us why the boy is in bed? Are there any items that tell us whether or not he is always confined to bed and/or indoors?

Social Skills, Occupations: Colón is not the only author or illustrator who began their love for their craft due to the limitations of an injury or illness. How do drawing and writing in particular change one's sense of being confined? In what situations beside illness might you use drawing or writing to get a broader view of the world.

Compare and Contrast, Art Appreciation: Compare the style of illustration in the opening spread with the style of the African scenes. What do you notice? Why do you think Colón made these choices. He has said he was inspired by the movie version of The Wizard of Oz.

Activities
Imagination, Creativity: Where would you like to go on an imaginary trip? Take a stack of paper and a pencil and quickly sketch out what you see there. Choose one of your sketches to finish with colored pencils and experiment with scratching through the layers of pencil as Colón does.

Geography, Science and Zoology:Where do the animals in this book run wild? Find out more about the places and animals.

Art Appreciation, Color: Colón has said that his use of color is inspired by the impressionists, even though his art is not impressionistic. Specifically he uses their method of adjacent contrasting colors to create the illusion of another color. Use a magnifying glass to look closely at the boy's "brown" pants. You will find purple, green and blue as well as brown. Find some examples of this in impressionist paintings online. Try your own color experiments.
(Continued Below)
---
Advertisement:
---

Related Books
Grades PreK - 12
Where the Wild Things Are by Maurice Sendak. Picture Book. 48 pages.
Find this book: Local Bookstore, Amazon, B&N

This classic picture book has delighted generations of children while jangling the nerves of some less intrepid adults and children. When he and his mother shout with rage at each other, Max propels himself across time and space to where the wild things are. Read More in our Featured Book Teachers Guide with discussion questions, extension activities, related books and links.

Grades K - 9
Artist to Artist: 23 Major Illustrators Talk to Children About Their Art by The Eric Carle Museum of Picture Book Art. Nonfiction. 114 pages.
Find this book: Local Bookstore, Amazon, B&N

Illustrators write about their craft and their lives. Artists include Quentin Blake, Ashley Bryan, Steven Kellogg, Jerry Pinkney, Maurice Sendak, and Paul Zelinsky. Each illustrator has written a letter to future artists. Opposite each letter is a fold-out page of some of their illustrations. Fun for browsing or reading cover to cover.
(Continued Below)
---
Advertisement:
---

Related Areas Within Carol Hurst's Children's Literature Web Site