First Steps


by Burningham, John. (Candlewick, 1985 ISBN 1564022056. Out of Print.) Picture Book. 32 pages. Grades PreK+.
This book was reviewed by Carol Otis Hurst in Teaching K-8 Magazine.


Review
With quirky and wonderful illustrations, Burningham has given us an alphabet, counting and colors and antonym book for the very young in these 32 pages. In the alphabet section, our hero is being pulled up a mountain by the Y's Yak and showing his striped socks to the Z's Zebra, for instance. In the counting section, we watch each child join the tree climbers having fun in the big tree until (is it a tiger or a very large cat) joins them. In the color section the green display shows a green clad boy helping frogs jump through a hoop. Burningham makes some social statements as well. For hard and soft in the opposites section, hard is demonstrated by a person covered with newspaper sleeping on a park bench while soft as the same person covered with a blanket snoozing on a comfortable couch.
Each of these sections can be compared to full books: alphabet, counting and color concept books. Older students, able to appreciate the subtleties in First Steps, might like to look at other work by Burningham in which the same sly look at authority figures, social ills and pomposity is present. His book Courtney, for instance, shows the silliness of the adult's values while telling a very funny story about a most talented dog -- albeit a mutt.

Related Areas of Carol Hurst's Children's Literature Site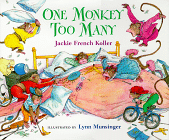 ---
Advertisement:
---
---
Advertisement:
---
---
Advertisement:
---