The Graveyard Book


by Neil Gaiman. Illustrated by Dave McKean.

Novel. 312 pages. Grades 6-10.
Find this book: Amazon

Review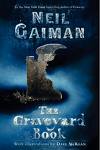 In The Graveyard Book Neil Gaiman, author of the New York Times bestseller Coraline gives us a playful romp through an alternative world of ghosts and ghouls while slowly unfolding the mystery of who is after Nobody. It won him the 2009 Newbery Award.
The first five pages of this novel open with a picture book style balance of graphics to text on the page but the ink wash illustrations of this dark tale are anything but childlike. Still, the graphic opening provides an accessible beginning. Once the story begins its only the first pages of each chapter that are illustrated. The opening line, "There was a hand in the darkness, and it held a knife." in white text on an all-black page across from the hand and knife appearing out of the darkness sets the stage for the opening murders.
A toddler's parents are killed by a man on some kind of mysterious mission to wipe out the family but the child escapes to a graveyard. There the new but still weak ghosts of his parents turn custody of him over to a couple of ghosts. The toddler is given the name Nobody and the ghosts of the graveyard raise him.
Nobody grows up among this assortment of odd characters. He's been granted special status by the denizens of the graveyard and so he can see ghosts and walk through walls. He has also been given a provider, named Silas, who seems to be neither ghosts nor living but who can leave the graveyard to obtain food and other supplies.
Set in England, this would be an oblique but fitting match for a unit on English history, gravestones or fantasy. It is, of course, a perfect fit for a unit on ghost stories or mysteries. It has a very gothic feel.
There is also a great recorded version of this book read by the author (Recorded Books, 2008).
(Continued Below)
---
Advertisement:
---
(Continued Below)
---
Advertisement:
---
(Continued Below)
---
Advertisement:
---

Related Areas Within Carol Hurst's Children's Literature Web Site

Related Areas Elsewhere on the Internet
Following these links will take you off our web site. You will have to use your back button to return or, bookmark our site now so you can return anytime.