The Great Gilly Hopkins


by Katherine Paterson.

Novel. 160 pages. Grades 4-9.
Find this book: Amazon

Review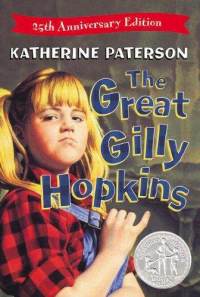 In this Newbery Award winner, we meet Gilly, a foster child who has successfully manipulated the system for years. All that changes, however, when she is placed in the home of Mamie Trotter, an eccentric soul whose household consists of herself and W. E. (William Ernest) another foster child who, unlike Gilly, is fearful and easily intimidated. Next door neighbor Mr. Randolph, a blind African American and elderly gentleman, is a frequent visitor whom Gilly treats with contempt.
Gilly's racial prejudice overflows when she learns that her new teacher is also Black. Gilly knows that she will get true understanding only from her birth mother, Courtney, and plots to be reunited with her. However, she has not reckoned with the wisdom of both her teacher and Mamie Trotter.
(Continued Below)
---
Advertisement:
---
(Continued Below)
---
Advertisement:
---

Related Books
Grades 5 - 8
The Pinballs by Betsy Byars. Novel. 185 pages.
Find this book: Local Bookstore, Amazon, B&N

Carlie, Harvey and Thomas J., three foster children, have been taken in by the Masons who have had many other foster children in the past. It's Carlie who compares the children to pinballs, controlled by external forces, and at the mercy of fate. The Masons provide a supportive environment in which the children learn to care for each other and begin to experience love and trust. This is a believable, funny and touching novel. Read More.

Grades 3 - 9
Maniac Magee by Jerry Spinelli. Novel. 180 pages.
Find this book: Local Bookstore, Amazon, B&N

Meet Jeffrey Lionel Magee, sometimes known as Maniac Magee, and the people of the fictional town of Two Mills. Maniac runs away from home and ends up in Two Mills, a racially split town where he becomes a catalyst for change. This excellent novel is about prejudice, love, home, baseball, fear and understanding. Read More in our Featured Book article including classroom activities, related books and links.

Grades 5 - 8
The Moves Make the Man by Bruce Brooks. Novel. 256 pages.
Find this book: Local Bookstore, Amazon, B&N

Jerome Foxworthy, 13, ace student, first black in an all-white school and a basketball fanatic, narrates this story of his friendship with Bix. Bix's game is baseball, but Jerome recognizes in his skill the same passion and technical accuracy that he himself has in his sport. This is an exquisite portrait of Jerome, a bright, confident loner and Bix, distant and frightened, and the fragile friendship that develops between them. Read More.
(Continued Below)
---
Advertisement:
---

Related Areas Within Carol Hurst's Children's Literature Web Site