Guess Who My Favorite Person Is


by Byrd Baylor. Illustrated by Robert Andrew Parker.

Picture Book. 32 pages. Grades 2-4.
Find this book: Amazon

Review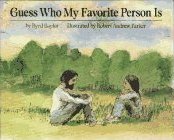 This book is out of print, but still widely available used and through libraries.
A young man and a little girl play a game of choosing and describing their favorite things while resting in an alfalfa field. The girl is the leader and she is a harsh critic of his choices when they are not specific enough. With choosing favorite colors, for instance, she demands that he not just declare his choice to be blue, but that he tell exactly which kind of blue, seen where. The game proceeds as they choose their favorite smells, things to touch, and times of day. As the game goes on, they develop a friendship over the course of an afternoon. The title question is never answered in the book, but the reader knows they would name each other.
There are other questions here. Is this the first time these two have met or are they old friends pretending new acquaintance? Will they meet again? What other questions could they have asked each other? The obvious extension, of course, is to answer such questions yourselves with the preciseness demanded by the game's leader.
Robert Andrew Parker is the illustrator of this Baylor book and uses loosely done watercolors defined with pen and ink, a departure from the usual choice of Peter Parnall as illustrator. Readers might like to speculate on how Parnall would have done it and, conversely, how Parker might have done some of Baylor's other books.
---
Advertisement:
---
---
Advertisement:
---
---
Advertisement:
---