Hattie and the Fox


by Mem Fox, illustrated by Patricia Mullins. (Macmillan, 1986 ISBN 0-689-71611-7) Picture Book. Grades Pre-K+.
This review by Carol Otis Hurst first appeared in Teaching K-8 Magazine.


Review
The barnyard animals, a horse, a cow, a pig, a goose, and a sheep, scoff at Hattie as she spots something in the bushes. "Goodness gracious me!" she cries, "I see a nose in the bushes!" Bit by bit she calls out the body parts she sees hiding there. Each time the scornful others repeat their sneering phrases. When the fox that we've known about for some time appears, Hattie flies off to the bushes. The others react with alarm except for the cow who moos loudly and frightens the fox away.
This is a delightful read aloud for young children as it allows the reader to use every bit of expression while taking on the roles of Hattie and the other animals. There's also much opportunity for reader's theater or more elaborate dramatizations. The repeated phrases make an easily identified pattern and children usually make unprompted predictions of the next action. After that last scene, readers should be able to make a pretty good prediction about the animals' future reactions to Hattie's observations.
The torn tissue paper and crayon illustrations are perfect for this book and that use of the medium makes a nice contrast with Eric Carle's use of it with very different results. These are short and distinctive and probably children have heard the phrases spoken informally in another context.

Related Books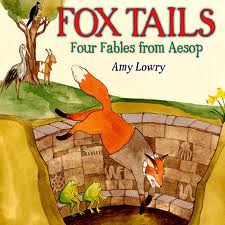 Fox Tails: Four Fables from Aesop by Amy Lowry. (2012, Holiday House. ISBN 9780823424009. Order Info.) Picture Book. 32 pages. Gr K-4.
Four fables, all featuring a fox, have been combined into one story. "The Fox and the Grapes" (of sour grapes fame), "The Fox and the Crow," "The Fox and the Goat," and "The Fox and the Stork" all star a trickster fox, but, in the end, the tables are turned. Lowry has illustrated the story with gentle, clean drawings which reward closer inspection with hidden details. This is a subtly humorous, satisfying read.

Related Areas within Carol Hurst's Children's Literature Site


For your convenience you can order this book directly from an online bookstore (Amazon.com):
Caution: Bookmark this page now so you can return when you are done with your order.
Here's more information about our direct order service.


---
Advertisement:
---
---
Advertisement:
---
---
Advertisement:
---