Holes


by Louis Sachar.

Novel. 272 pages. Grades 6-9.
Find this book: Amazon

Review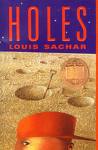 With the Newbery Award Winner Holes Louis Sachar has brought us into the bizarre world of a detention camp run by one of the most intriguing villains in children's literature. Camp Green Lake is neither a camp nor a lake although it once was both. Now it's a barren desert area and a prison camp for delinquent teenage boys. A boy with a palindrome for a name, Stanley Yelnats, was tried and convicted of a crime he did not commit -- stealing a basketball hero's shoes -- and was given the choice of Camp Green Lake or prison. This is just the latest in a series of misfortunes that have befallen generations of the Yelnats family since being cursed by an old woman in their native country.
The warden of Camp Green Lake, a woman with deadly, long fingernails, has set the task and the rules for the boys. Each day, each boy must dig a hole in the parched desert five feet deep and five feet square. When an exhausted, parched and aching Stanley comes back to the barracks far later than the others having completed his first hole, he is told that the next day's hole will be harder and this is true for each succeeding day as the insane, exhausting task continues. The boys are told where to dig and given a meager supply of water and food in spite of the awful heat.
Stanley grows stronger, of course, and even acquires a nickname "Caveman" along with some respect from his fellow inmates. When one runs away into the desert where there is no source of water, Caveman goes after him, guided by one of the tales of his ancestors. They survive and even come back to bring down the whole system.
The reason for the digging becomes apparent as this absurd and often very funny tale continues. The combination of survival adventure story and tongue-in-cheek action keeps the reader turning pages while being careful not to miss a detail. Kids who have read the book will have lots to talk about and teachers will appreciate the many symbols in the plot - holes are everywhere including in the logic. Coincidences stretch belief and give the book a fairy tale quality causing many to compare this work with that of Kurt Vonnegut. Others will be reminded of Catch 22 or The Princess Bride. The book is not difficult to read but the humor and the action make it tailor-made for kids from sixth grade up.
This book also won the National Book Award.
(Continued Below)
---
Advertisement:
---
(Continued Below)
---
Advertisement:
---

Related Books
The Goats by Brock Cole. (2010, Square Fish. ISBN 9780312611910. Order Info.) Novel. 192 pages. Gr 5-9.
In this modern survival story Laura and Howie are the victims of a camp prank where a boy and a girl are stripped and left on an island in the lake. They are the Goats, chosen because of their inability to fit in. Laura and Howie decide to disappear both for revenge and because they don't want to return to the cruelty of the kids at the camp.
(Continued Below)
---
Advertisement:
---

Related Areas Elsewhere on the Internet
Following these links will take you off our web site. You will have to use your back button to return or, bookmark our site now so you can return anytime.