Homecoming


by Cynthia Voigt.

Novel. 320 pages. Grades 4-9.
Find this book: Amazon

Review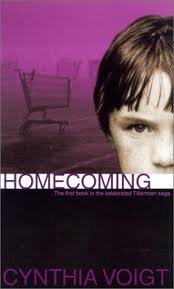 Dicey, James, Sammy and Maybeth Tillerman are abandoned by their mentally ill mother in the family car outside a mall. They walk from the eastern edges of Connecticut to Bridgeport where they have an address for Aunt Cilla, their nearest known relative. That trip is an urban survival story and the children sleep in parks and abandoned buildings, fishing and clamming when possible along the shore. Their resources are depleted, however, when two college students rescue them and drive them to Aunt Cilla's house, but Aunt Cilla has been dead for several months. Her daughter, Cousin Eunice accepts them as a duty but tries to split them up. To stay together they continue their journey to Chesapeake Bay where their mother's mother, a woman they know only as a name, lives. This leg of the trip is longer and equally arduous but, thanks to the help of some kids and a circus, they arrive at the home of Abigail Tillerman, their grandmother Gram first allows and then accepts and then loves them.
The novel is an odyssey and the main theme seems to be the importance of family ties. This is the first in a series of novels about the Tillerman family. Others include: Dicey's Song, A Solitary Blue, The Runner, Sons from Afar, and Seventeen Against the Dealer.
(Continued Below)
---
Advertisement:
---
(Continued Below)
---
Advertisement:
---

Related Books
Grades 5 - 9
The Goats by Brock Cole. Novel. 192 pages.
Find this book: Local Bookstore, Amazon, B&N

In this modern survival story Laura and Howie are the victims of a camp prank where a boy and a girl are stripped and left on an island in the lake. They are the Goats, chosen because of their inability to fit in. Laura and Howie decide to disappear both for revenge and because they don't want to return to the cruelty of the kids at the camp. Read More.
---
Advertisement:
---