How Many Ways Can You Catch a Fly?


by Robin Page and Steve Jenkins. Illustrated by Steve Jenkins.

Nonfiction Picture Book. 32 pages. Grades PreK-4.
Find this book: Amazon

Review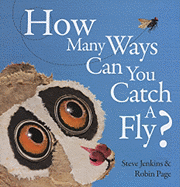 This is another wonderful nonfiction picture book by this husband and wife team. The remarkable torn paper artwork begs to be examined closely and the science facts are obscure and fascinating. In response to the title question we see a spider cast a square web down over a fly, a trout jump out of the water, a bird snatch a fly in mid-flight and more. The book continues with more questions and a new group of animals illustrates various adaptations for each issue.
Polynesian megapodes bury their eggs at the rim of a volcano to keep them warm. Tailorbirds sew leaves into pouches to make a nest. Sea urchins sometimes grow too large to get out of the holes they have dug and must spend the rest of their lives there.
The ingenious way in which the torn and cut paper is used to create realistic animals will draw kids to the book. The science flows easily from the art. Use this book in an animal science unit. This is also a great book to use in the art curriculum to inspire paper collages and to show the possible range of effects, from fine cut details to soft fur. You can't spend much time with this book without trying to make the moist, shiny eyes of the loris on the cover.
There is additional information on each of the animals at the end of the book.
---
Advertisement:
---
---
Advertisement:
---
---
Advertisement:
---