If You Find a Rock


by Peggy Christian. Illustrated by Barbara Hirsch Lember.

Picture Book. 32 pages. Grades PreK-3.
Find this book: Amazon

Review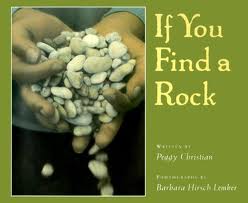 In this photo essay style picture book we see children finding different kinds of rocks. The rocks aren't classified by mineral or structure but rather by use: skipping rocks, splashing rocks, climbing rocks, resting rocks. Of course, the rocks aren't just listed for us. There are subtle and evocative photos of rocks, hand tinted in a way that creates a kind of dreamy timelessness. On the opening page we read:
If you find a rock,
a nice flat, rounded rock
that sits just right
in the crook of your finger,
then you have
a skipping rock.
This is an accessible meditation on interacting with one element of nature and a great introduction to observation skills or to a unit on nature, rocks, or geology.
(Continued Below)
---
Advertisement:
---
(Continued Below)
---
Advertisement:
---

Related Books
Everybody Needs a Rock by Byrd Baylor. Illustrated by Peter Parnall. (1974, Atheneum. ISBN 9780684138992. Order Info.) Picture Book. 32 pages. Gr 1-4.
With her spare, poetic prose, the author gives us ten rules for picking our own special rocks, leading us through smell, taste, feel and sight. Her locale is southwestern United States and Peter Parnall's illustrations match it well. His lines trail off into the vast spaces and his figures, especially the rocks, seem to grow out of that space. Read More.

Sylvester and the Magic Pebble by William Steig. (2010, Atheneum. ISBN 9781442416673. Order Info.) Picture Book. 42 pages. Gr K-3.
In this Caldecott Award winner, we find Sylvester collecting pebbles as a hobby. One day he finds an extraordinary red one. Finding it will grant his every wish, he is delighted. When he foolishly wishes to be a rock, he cannot hold on to the pebble to wish himself back. He remains a rock while his father and mother search and then mourn for him. One day, quite by accident, his father places the pebble on him just as his mother wishes he would return to them.

Rocks in His Head by Carol Otis Hurst. Illustrated by James Stevenson. (2001, Greenwillow. ISBN 9780060294038. Order Info.) Picture Book. 32 pages. Gr PreK-3.
Some people collect stamps. Other people collect coins. Carol Otis Hurst's father collected rocks. Nobody ever thought his obsession would amount to anything. They said, "You've got rocks in your head" and "There's no money in rocks." But year after year he kept on collecting, trading, displaying, and labeling his rocks. The Depression forced the family to sell their gas station and their house, but his interest in rocks never wavered. And in the end the science museum he had visited so often realized that a person with rocks in his head was just what was needed. Read More.
---
Advertisement:
---