I'll Give You the Sun


by Jandy Nelson.

Novel. 384 pages. Grades 9-12.
Find this book: Amazon

Review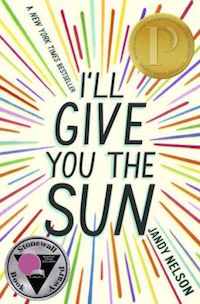 Noah and his sister, Jude, are thirteen-year-old twins. They share a passion for art and have been very close until recently. The narration opens with Noah who is gay yet still in the closet. He sees the world through intense visual visions, some just thoughts, but some that he actually sees even while realizing they're just in his head. This gives us an amazing insight into how some artists see the world and of how ordinary most of our own perspectives are.
After the first chapter the narration skips to Jude three years later. Tragedy has haunted them including the death of their mother and the date rape of Jude at the age of 14. The twins had both applied to a prestigious art high school, but only Jude has been accepted, much to their surprise.
Jude's life is a mess and she has lost most of her enthusiasm for art. She carries enormous guilt and seems to be haunted by her mother's ghost who shatters all of Jude's clay creations each time they are in the kiln. Pushed by a staff member at the art school, she decides that there is something she needs to say with her art and that she must sculpt it in stone so that it can't be shattered so easily.
Ghosts are not an unfamiliar phenomenon for Jude as she is often accompanied by her quirky dead grandmother, though she similarly realizes she is probably imagining her.
The narration continues to flip back and forth between the two twins and the two time periods as the stories inform and augment each other. The bits and pieces slowly come together as we get to know each of them individually and to see the whole story.
Nelson has said that she wrote each twin's story individually one at a time before beginning to weave them together into one novel. This seems to have strengthened the sense of two different voices and of the passage of time.
Noah's narration does a startlingly convincing job of getting us inside the head of someone with severe social awkwardness, awakening sexuality and a blinding fear of his sexual orientation being discovered by the school bullies. His friendship with Brian, which may or may not lead to something more, is particularly delightful.
Jude's narration gives us, among other things, a mildly graphic and emotionally powerful description of the date rape and of her feeling of being suffocated by her own silence during it. We can feel her teenage girl angst magnified by the tragedies and the tense relationship with her brother.
The themes here are compelling, emotional and powerful. This is a great read and wonderful for eliciting complex feelings and insights.
(Continued Below)
---
Advertisement:
---
(Continued Below)
---
Advertisement:
---
(Continued Below)
---
Advertisement:
---

Related Areas Within Carol Hurst's Children's Literature Web Site