Kira-Kira


by Cynthia Kadohata.

Novel. 256 pages. Grades 4-7.
Find this book: Amazon

Teacher's Guide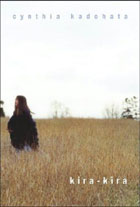 This book won the 2005 Newbery Award. Kira-kira means glittering and, not to be obvious, this book glitters. It's narrated by Katie, the middle child in a hard working Japanese American family. Katie idolizes Lynn, her older sister, who takes time to teach Katie all the things she ought to know. In Katie's eyes, Lynn is beautiful and brilliant -- kira-kira.
Their mother is fragile, delicate and fearful. Their father is caring and so anxious to do right by his family that he works almost nonstop, first at their Japanese grocery store in Iowa and then at the chicken factory in Georgia. In Georgia they join a very small group of Japanese Americans, most of whom are employed at the chicken factories. Anxious to buy a home of their own, Katie's mother also works long hours at the factory.
This is the 1950s and segregation in Georgia keeps nonwhites in their place. While few people in Georgia are deliberately hateful toward the Japanese Americans who have come there to work in the factories, the racism is apparent. However, when Sam becomes caught in a cruel trap in a field, two non-Japanese come to his rescue.
No sooner have they bought the house, then Lynn becomes ill. The father and mother become frantic with worry over Lynn and with the mounting medical bills.
There is talk of a union at the factories and the children's mother is anti-union. Katie takes on an adult role, cooking, caring for Sam, her little brother, and nursing Lynn as the parents work even longer hours. Katie's feelings toward Lynn vary from love to hate as Lynn's health deteriorates. Their uncle, a noisy exuberant man, helps Katie understand and accept those feelings.
Katie is a careful observer of all she experiences. She flies off the page into our hearts.
(Continued Below)
---
Advertisement:
---

Things to Talk About and Notice
Katie's mother is delicate and, according to Katie, feminine. She says that someday the girls will be sent to Japan in order to "learn their femininity." What is that? What do you think they would learn about? What do your own parents think about such femininity?

When the family is moving from Iowa, they are comforted by the fact that they have many bags of rice. The rice is their measure of wealth. What does your family use as such a measure? What do you use?

Activities
Each character in this story wants something a little bit different than the others. Make a chart such as the one below listing the characters and what, at least at the beginning of the story, each one wants.
Mother --- Peace and Quiet
Father --- A home for his family
Lynn -- To go to college
Katie -- to stay with Lynn forever
Uncle Katsuhisa --

Katie makes frequent lists: lists of what she wants, of how she feels, of what she should do. The character Bud, in Bud, Not Buddy by Christopher Paul Curtis (Yearling, 2002 ISBN 0440413281. Order Info.), another Newbery Award winning book, is also a list-maker as are the boys in Betsy Byars' The Eighteenth Emergency (Puffin, 1996 ISBN 0140314512. Order Info.). Use one of their lists as a pattern and make a similar list. Of what use is it? How does such list-making help any of those characters?

There's another similarity between Kira-Kira and the above-listed Bud, Not Buddy. In both books unionizing plays an important role. What do you think about unions? Interview some adult workers about unions.
(Continued Below)
---
Advertisement:
---

Related Books
A Summer to Die by Lois Lowry ( Laurel Leaf, 1984 ISBN 0440219175. Order Info.) also revolves around the death of an older sister.

In Olive's Ocean, by Kevin Henkes (Greenwillow, 2003 ISBN 0060535431. Order Info.) the ocean plays somewhat the same role as it does in Kira-Kira. In neither book does the character who wants to see the ocean actually see it. Are there other similarities in the books? Read more in our Featured Book article with activities, related books and links.
http://www.carolhurst.com/titles/olivesocean.html
(Continued Below)
---
Advertisement:
---

Related Areas Within Carol Hurst's Children's Literature Web Site

Related Areas Elsewhere on the Internet
Following these links will take you off our web site. You will have to use your back button to return or, bookmark our site now so you can return anytime.