Miss Bridie Chose a Shovel


by Connor, Leslie. Illustrated by Mary Azarian. (Houghton Mifflin, 2004 ISBN 0618305645. Order Info.) Picture Book. Grades 1+.


Review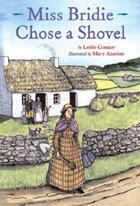 This is a delightful story with a double theme of immigration and the life cycle. Azarian's sturdy woodcuts are the perfect medium with which to depict the life and deeds of this strong woman.
We meet Miss Bridie on the cover as she leaves her family behind in the thatched roof cottage. Although the story doesn't name the country, her first name and the green fields edged with stonewalls of her homeland suggest that it is Ireland.
The text begins "She could have picked a chiming clock or a porcelain figurine, but Miss Bridie chose a shovel back in 1856." We then follow the young woman as she travels to America, finds a job in New York City in a little shop and a room over it, raises and sells plants and marries a man she meets while skating. They move together to a house in the country where they raise sheep and goats and establish an apple orchard. They raise their children and grow old together.
And through it all there is the shovel. Bridie leans on it aboard the ship, clears the snow off the ice with it when she goes skating on the river, uses it to dig the holes on the farm for the apple trees, and so on. The shovel becomes a symbol representing, perhaps, the plain woman who takes life as it comes with a practical acceptance of its joys and sorrows.

Things to Talk About and Notice
Because of its theme, the book can be used anywhere from first grade up. You might start with some "what if's." What if Miss Bridie had chosen the chiming clock instead of the shovel? What would that choice have shown about Miss Bridie? What did the shovel show? If the same events had occurred in her life, how might the clock have given her pleasure or comfort? What if she had chosen the figurine?

Activities
With younger children, brainstorm for some other ways in which she could have used that shovel and then do some vocabulary building by making a list of the various kinds of shovels from those that go with a sand pail to bulldozers.

Older kids can investigate the time, 1856, when she left Ireland. The Irish Potato Famine went from 1845-1850 and might have been one of the reasons why she left Ireland. Some students might choose to find out more about that cataclysmic event and its effect on America.

Miss Bridie comes to New York. What was New York City like in 1856? What was the population? What jobs might have been available there for a young single woman? What's the present population and job picture? What caused those changes?

Look at a bigger picture of the time. Who was president of the United States in 1856? Slavery was a hot issue then. What side was the President on? What were the other concerns for the country? What was happening to the Native American population? What was the effect of the railroads?

What if Miss Bridie came to the west coast of the US instead of the east? What was going on in San Francisco? It's after the Gold Rush but were people still finding gold there? If so, would she have used her shovel to search for gold?

What if she'd gone west from NYC and settled on the prairie? How would she have traveled? Would that have meant a different life for Miss Bridie and different uses for her shovel?

Other students might search their own family histories for immigrant stories or for objects that have great meaning to one or all family members. Miss Bridie chose a shovel. What would or did they choose?

We've just begun, of course. Some students may want to learn more about the life of some famous immigrants and there are many excellent biographies.

Mainly, of course, the book opens up further reading about immigration at the time.

Related Books
For younger children's nonfiction, try Steven Kroll's Ellis Island: Doorway to Freedom illustrated by Karen Ritz (Holiday House, 1995 ISBN 0823411923. Order Info.). Older students might read William Jay Jacobs' Ellis Island: New Hope in a New Land (Atheneum, 1990 ISBN 0684191717. Order Info.). Irish Immigrants, 1840-1920 by Megan O'Hara (Blue Earth, 2001 ISBN 0736807950. Order Info.) may be even more informative about Bridie's experiences as would Black Potatoes: The Story of the Great Irish Famine, 1845-1850 by Susan Campbell Bartoletti (Houghton, 2001 ISBN 0618002715. Order Info.).

Picture books in which one life is followed include Yonder by Tony Johnston with illustrations by Lloyd Bloom (Dutton, 1992 ISBN 0140547312. Order Info.) and Maisie by Alice Schertle with illustrations by Lydia Dabcovich (Lothrop, 1995 ISBN 0688093108. Order Info.).

And also: The Tiny Seed by Eric Carle. (1987, Picture Book Studio. ISBN 978-0887081552. Order Info.) Picture Book. 36 pages. Gr PreK-2.
We follow a seed from birth to flower to seed again. It's fall and the seeds are being blown along by the wind. Obstacles abound, but one seed is able to grow to maturity where it faces more perils. This classic, first published in 1970, is a great introduction to the life-cycle of flowering plants but also a beautiful philosophical look at life. Read More.

Picture books that depict the immigrant experience include Patricia Polacco's The Keeping Quilt (Turtleback, 2001 ISBN 060620749X. Order Info.) which also, of course, follows an object throughout. Another quilt and immigrant story is in Sonia Levitin's A Piece of Home with illustrations by Juan Wijngaard (Dial, 1996 ISBN 0803716257. Order Info.). Sherry Garland's The Lotus Seed with illustrations by Tatsuro Kiuchi (Demco, 1997 ISBN 0606115811. Order Info.) describes an Asian immigrant's story and also has the continuation of an object throughout a life.

Moving to novels, two books by Patricia Reilly Giff are very good and very relevant: Nory Ryan's Song (Yearling, 2002 ISBN 0440418291. Order Info.) starts where Bridie did -- in Ireland; Maggie's Door (Wendy Lamb, 2003 ISBN 0385900953. Order Info.) follows Nory from Galway to her sister Maggie's door as well as the parallel journey made by her friend Sean, who left Ireland a few days ahead of Nory. Both books are accessible to readers from fourth grade up. See our Featured Book article on Nory Ryan's Song with activities, related books and links.

Related Areas Within Carol Hurst's Children's Literature Web Site

Related Areas Elsewhere on the Internet
Following these links will take you off our web site. You will have to use your back button to return or, bookmark our site now so you can return anytime.
---
Advertisement:
---
---
Advertisement:
---
---
Advertisement:
---